Most people think that metal spikes installed outside a block of London flats should be removed, though the public is divided over where homeless people should be allowed to sleep rough
Metal spikes have been installed outside a block of luxury flats in London, which many people believe have been designed to deter homeless people from sleeping there. Photographs of the 'homeless spikes' were circulated in the news and on social media, leading to an immediate public outcry and even calls by the Mayor of London, Boris Johnson, to have them removed.
According to a new YouGov poll, 55% of British people think the 'homeless spikes' should be removed, while 32% say they shouldn't be. Respondents were shown a photograph of the spikes themselves.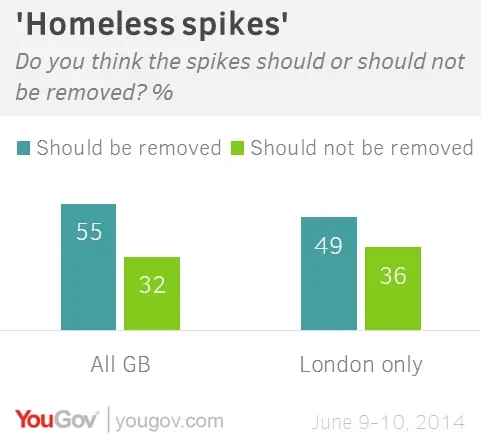 Londoners are among the least supportive of having the spikes removed, however, although they still side on having them removed by 49-36%. In contrast, voters in Scotland, the Midlands and Wales and the North all oppose them by more than two-to-one. Labour voters are the most opposed of any group (68% say the spikes should be removed), even as similar anti-sleeping measures have been noted outside the Labour party's London headquarters.
However, general views about whether homeless people should be allowed to sleep rough outside of privately owned buildings are less clear cut. Only 17% say they should be allowed to sleep in these places as a general rule, while 30% say they should be allowed to do so only with the building owners' permission. Another four in 10 voters say homeless people should not be allowed to sleep outside privately owned buildings.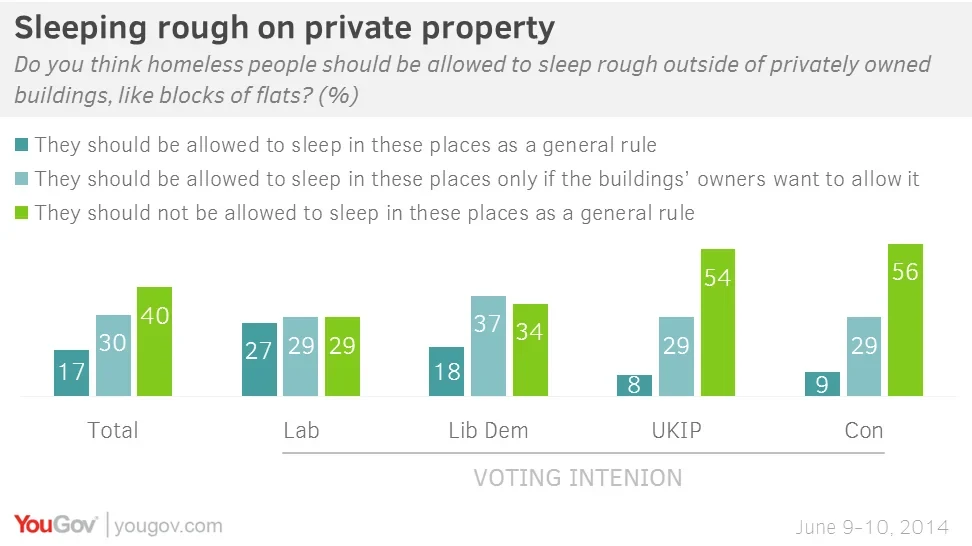 Here the largest differences appear along political lines. The majority of Conservatives and UKIP supporters pick the third option, while the majority of Lib Dems and Labour supporters pick one of the first two options.
Though the spikes in London have sparked outrage, measures like these are "common", according to BBC London's Nick Beake. Mr Beake and others have pointed out that similar spikes can be found elsewhere in London, as well as in places like New York and Paris. Defenders of such anti-sleeping measures argue that the studs are not painful and encourage people to seek out less dangerous places to sleep, like hostels.