The past 12 months have seen substantial improvements in public perceptions of the economy
To help us limber up for the glorious five-day festival of number-crunching that lies ahead – from polling day on Thursday to next Monday's fallout from the European Parliament election results – here are some figures that might matter more in the long-run.
They concern Britain's economy. Below are the latest results from YouGov's weekly tracker poll for the Sunday Times.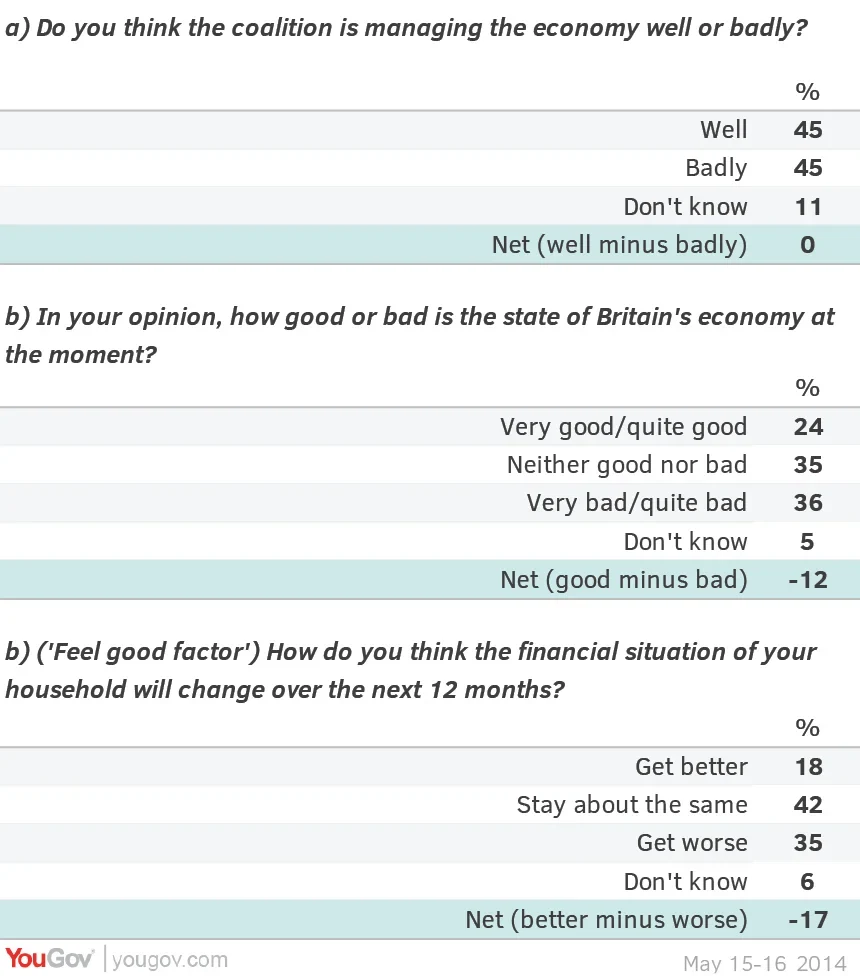 Looked at in isolation, those results don't look too good for the Government: a clearly negative rating on two measures, and level-pegging on the third. Only a quarter of the public think the economy is doing well, while fewer than one in five expects to recover from a lengthy period when wages have failed to keep up with prices. Few voters share David Cameron's optimism that we shall soon see an end to the 'cost of living crisis' that Ed Miliband talks about so much.
But wait. A rather different story emerges when we look not just at current views, but at how they have evolved in the past three years. The following table compares the current net scores with those in mid-May one, two and three years ago.

In May 2011, a year into the life of the present coalition, the numbers were bad. They got worse – and in the case of perceptions of government management of the economy, a lot worse – following the 'omnishambles' budget in 2012. A year later, in 2013, the government's standing was no better, although the figures for the economy and the feel good factor were beginning to recover.
In the past 12 months, however, all three indicators have moved strongly in the direction Cameron would want. We have not suddenly transformed ourselves into a nation of optimists; but the pessimism that dominated the first three years of the coalition's life has definitely diminished. This is the main reason why Labour's average ten point lead last May has largely evaporated.
At the end of last week, the FTSE 100 share index stood within 100 points of its all-time record, 6,951, set in December 1999 on the eve of the millennium. If and when it climbs above that level, ministers will doubtless proclaim this as further evidence of economic revival.
Results from this week's local and European elections will tell us much; but as we look ahead to next year's general election, the way voters' economic judgements evolve in the months ahead will probably tell us more about which party is likely to have the most MPs in the next Parliament.