By 54%-33% British people support sending British troops to help rescue the schoolgirls kidnapped by Boko Haram – if the Nigerian government asks for help
The United States has begun flying manned surveillance aircrafts over Nigeria in an effort to help find the more than 200 schoolgirls kidnapped by Islamist group, Boko Haram. The efforts come as the Nigerian government weighs a prisoner swap to liberate the girls, following an offer of such an exchange by Boko Haram's leader in a video released earlier this week. The United Kingdom, like the U.S., has sent technical advisers to Nigeria.
David Cameron on Sunday said Britain would "stand ready to do anything more that the Nigerians would want", and he did not rule out sending British troops, though he acknowledged it was unlikely the Nigerian government would request it.
New YouGov research into the matter finds that the British public back the idea, too. 54% say the UK should send troops to help find and rescue the kidnapped girls if the Nigerian government asks for it, while 33% are opposed to the idea. 12% don't know.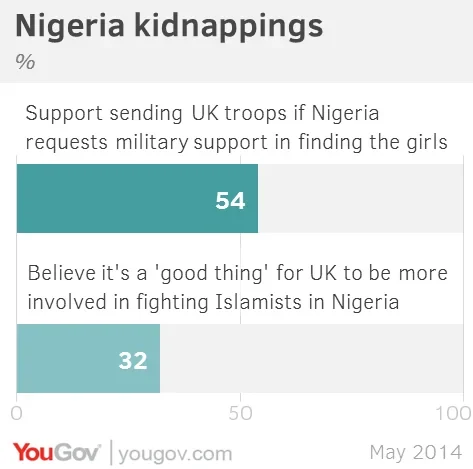 Among those following the story closely, support is even higher at 68%.
These findings reflect similar sentiments to those revealed in a recent survey from YouGov America. By 50%-26% Americans support the American government getting "more involved" in the efforts to find the kidnapped high school students in Nigeria.
However, British people are much less supportive of the UK or US getting more involved in broader efforts to combat Islamist militias in the northern region of Nigeria where Boko Haram and other similar groups are based. By 40-32% the public tend to say such greater involvement would be a bad thing rather than a good thing.
#BringBackOurGirls: raising awareness or an excuse for inaction?
Though the girls were kidnapped weeks ago, it was only relatively recently that the story has received extensive coverage in Western media.
The increase in coverage is likely partly due to a social media campaign centred on the slogan and Twitter hashtag #BringBackOurGirls, which has been promoted by prominent public figures such as US First Lady Michelle Obama and David Cameron.
YouGov's research finds that a third (34%) of the British public had heard of the hashtag before taking the survey on May 12th-13th.
On balance, people also tended to react positively to the campaign. 44% side with the argument that politicians should use social media and Twitter to "raise awareness of serious issues", while 27% tend to believe politicians promoting these campaigns "instead of taking real action is another example of talk over substance".