Neither side has yet landed a knock-out blow, but on the decisive issue of managing Britain's economy, the Conservatives are leading on points.
In itself, last week's news that wages are finally rising faster than prices has left voters unmoved. A YouGov poll for the Sunday Times, conducted after news of the latest official statistics, finds continuing, overwhelming agreement with Labour's description of a "cost of living crisis". But only a minority blame the coalition for their plight – or trust a government led by Ed Miliband to put things right.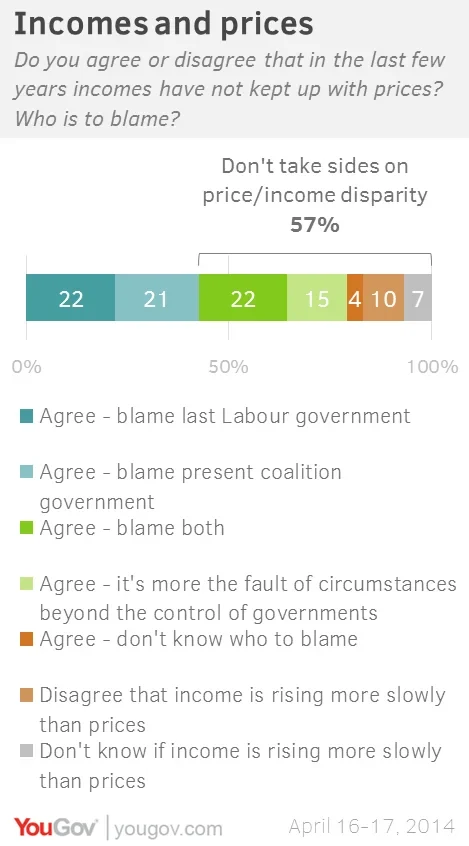 Miliband's has clearly struck a nerve. Fully 84% agree that "in the last few years most people's incomes have not kept pace with rising prices" – a figure that the latest wage and inflation figures have not altered. But only 21% blame the present government for this, while 22%, blame the last Labour government. Most people, 57%, don't take sides: they blame both parties, or aren't sure, or don't think there is a crisis, or fear the problem is beyond the control of politicians.
Those figures help to explain why Labour is losing ground on economic competence. YouGov repeated six questions we asked last autumn, about six different aspects of the party battle on living standards. Would a Miliband-led Labour government or a Cameron-led Conservative government do better? Our results give far more comfort to the Prime Minister than his rival.
On three aspects where Labour held clear leads six months ago, the race has tightened: providing more jobs (Labour lead down from 8% to 1%), keeping prices down (lead down from 6% to 1%) and "improving the standards of living for people like you" (9% lead down to 4%).
In contrast, two big Tory leads have grown even bigger – on managing the economy (lead up from 15% to 21%) and tackling the government's deficit (lead up from 22% to 29%).
One issue bucks the trend. Last October, the Conservatives enjoyed an 11% lead on "helping people get onto the housing ladder". This is down to just 2%. For many people, of course, affordable housing is a huge concern. Its impact on millions of families could yet undermine the Prime Minister's claims to improve real lives and not just statistical averages.
With a year to go until the next election, the wider point is that the battle on the economy is not yet over. We can't be sure which narrative will win – Labour's "cost of living crisis" or the Tories' "the tough decisions are paying off, don't turn back". But even if Labour can persuade the electorate that the cost of living is Britain's central problem, they can't be sure that enough swing voters will trust Miliband to solve it.
This commentary first appeared in the Sunday Times