Following tearful and dramatic testimony in the Oscar Pistorius murder trial, British people still overwhelmingly think he is guilty
Last week Oscar Pistorius took the stand in his own defence, delivering an emotional testimony over five days. The South African runner has been charged with murdering his girlfriend Reena Steenkamp on Valentine's Day last year. While he admits he shot her through the bathroom door in his home in Pretoria, Mr Pistorius says he believed he was shooting an intruder and testified that he was not in a "rational frame of mind" at the time.
At the start of the trial, YouGov asked the British public whether they though he was probably guilty or probably innocent, and only 7% said he was innocent. Over a month later, and following Pistorius' own testimony, that number has hardly changed, at 8%.
On the other hand, the number who believe the former Paralympian is guilty has risen marginally from 64% to 69%.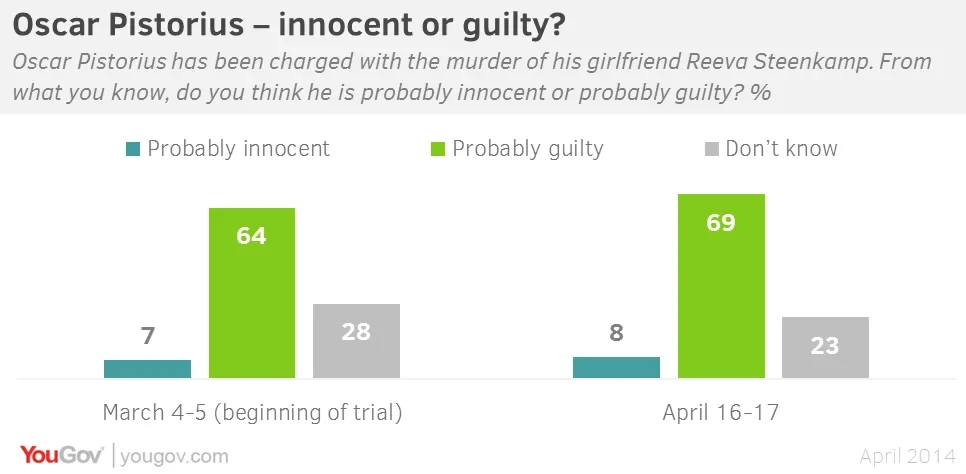 YouGov asked the same question to Americans and found a less decisive, but also clear, result. Only 6% believe Oscar Pistorius is innocent, while 48% believe he is guilty and 46% don't know.
On Thursday the trial was adjourned until May 5th. Though it has garnered plenty of media attention in Britain and abroad, the story has dominated the news in South Africa. In February it was decided that the entire trial could be broadcast live via audio and other parts live via television, something not allowed in British courts.