On the 20th anniversary of Britpop, British people pick Oasis over Blur by two to one
In April 1994, following the death of Kurt Cobain and the American grunge scene with it, English radio DJ and music critic Stuart Maconie coined the phrase 'Britpop'.
Shooting out of local cities and into a booming Britain, bands like Blur, Oasis and Pulp captured a new sense of optimism and national pride.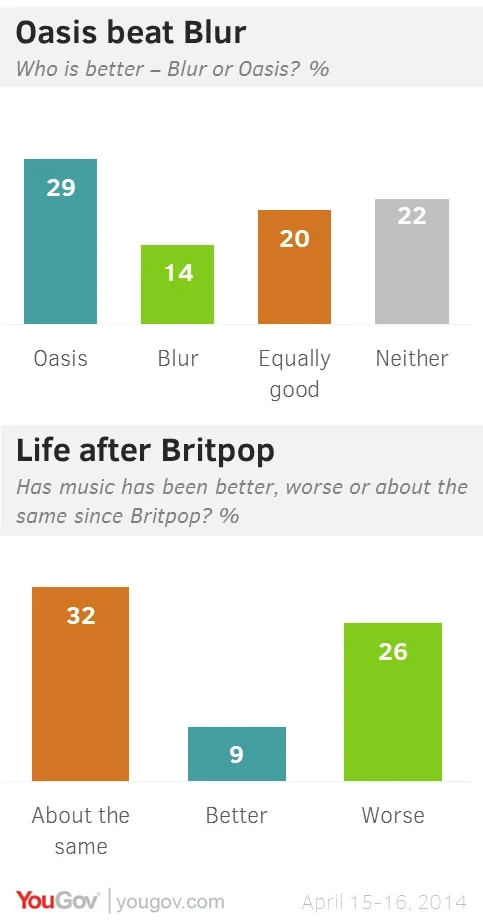 Now, 20 years on, YouGov revisits the rivalry that defined the times: who is better, Oasis or Blur?
Although at the height of Britpop the two camps were supposedly divided, 20% now say the two bands are equally good.
But Oasis are still twice as popular as Blur with those who pick a side: 29% say Oasis are better, while 14% say Blur are.
Among the Britpop generation (25-39 year olds), Oasis beats Blur by 36%-20%. More generally, 56% in this group like the genre and only 16% say they dislike it.
But in perhaps a happy resolution for those who lament the end of the years of 'cool Britannia', one third of people (32%) say music is as good now as Britpop was. 26% say music has been worse since, and 9% say it has actually been better.
To mark the 20th anniversary of their debut album 'Definitely Maybe', Oasis are reissuing a remastered version of the LP including rare and unreleased recordings. They played their last gig in 2009, and reportedly turned down a £20m offer to do a tour last year.