57% support introducing a four day working week in the UK – and 71% say it would make Britain happier
For four of the next seven weeks, Britain will be at work for only four days. In this rare time of year, the nation gets a taste of what is, for some people, not only a vision for human advancement but a serious economic proposal. Supporters of the idea argue that, if everyone worked a four day week, we would work harder in the days we did work and spend more money in the days off.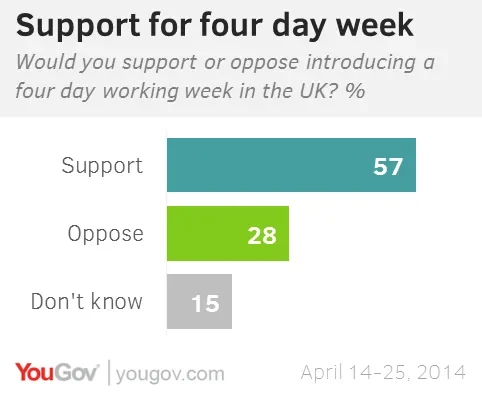 A new YouGov survey finds that most people (57%) would support introducing a four day working week in the UK. 28% would oppose and 15% don't know.
In 2010 David Cameron said it was "high time" to recognise that GDP was an "incomplete way" of measuring a country's progress, and told the Office for National Statistics to launch a well-being report.
71% say that as a nation we would be happier if we worked a four day week. Only 7% say we would be less happy and 16% say we would be much the same.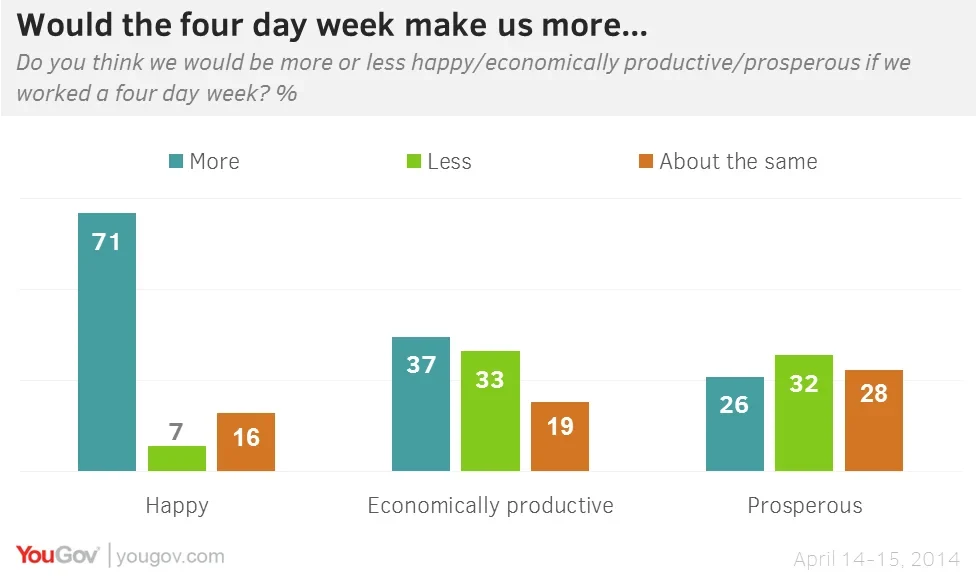 In 2008 the US state of Utah introduced a four day week, and nearly two-thirds of employees said it made them more productive. Not everyone is convinced by this however: 37% say Britain's economy would be more productive overall with a four day week, while 33% say it would be less so and 19% say it would be about the same.
An overwhelming majority (76%) say that if a four day week shrunk the economy they would oppose it, but only 32% predict it would actually make us less prosperous.
At the beginning of the 20th Century certain economists predicted we would only be working 15 hours a week by the beginning of the next. That hasn't happened of course, but the New Economics Foundation sums up the idea: "If we worked less, there would be more jobs, and that would get people off benefits and reduce unemployment. It would also help people slow down - we are under pressure to live life at such a fast pace. We need to live more sustainably, stop buying ready meals because we haven't got time to cook, reduce the carbon footprint by commuting less, and value unpaid things - like being active citizens, caring for people, being better parents," they say.