40% say too many famous people are having their reputation damaged by accusations they are found not guilty for – and 47% say they deserve compensation
Nigel Evans is only the most recent high-profile defendant to have been found not guilty of sex offence accusations. Two Coronation Street stars, Michael Le Vell and William Roache, have both recently been cleared, as has BBC Radio 1 DJ Dave Lee Travis.
A new YouGov survey finds a degree of public scepticism over the way the Crown Prosecution Service (CPS) brings cases to court.
Currently when the police believe someone has committed a crime, the evidence is sent to the CPS who decide if the evidence is strong enough to secure a conviction; whether there should be a trial.
But following Nigel Evans' acquittal Conservative MPs have questioned the way the CPS "put together a large number of lesser, subsidiary cases in order to reinforce one serious case when prosecuting sexual offences."
Generally speaking, people tend to think the CPS should look for stronger evidence than they do now before bringing charges. 37% say this, while 28% say the CPS should be willing to bring more people to trial and let juries decide. 13% say the current balance is about right.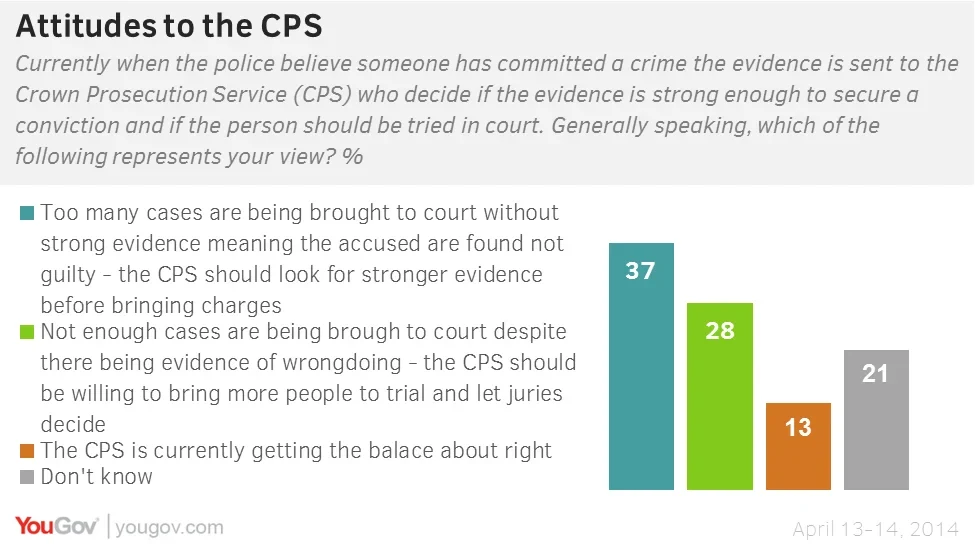 Thinking specifically about the famous people who have recently appeared in court charged with historic sex offences, people are basically divided, but a large minority (40%) say it has gone too far; too many are having their reputation damaged by accusations and then being found not guilty. 35% say it has not gone too far; the accusations are serious and have been hidden for too long.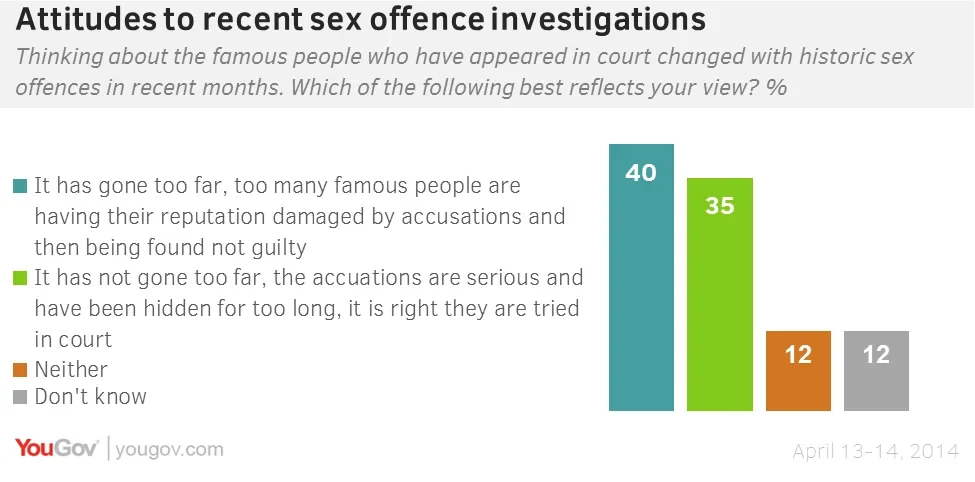 Compensation
The Conservative MP Nigel Evans says he spent £130,000 on the court case, 'wiping out his life savings', and wants the officials who decided to prosecute him to reimburse his legal fees.
On this, the public fall in his favour. 47% say those accused of a crime but found not guilty should be entitled to compensation for damage done to their reputation or career. 28% say they should not be entitled to compensation while 25% don't know.
Mr Evans, MP for Ribble Valley, was arrested in May last year after a member of staff accused him of rape. He was later charged with the attack as well as eight other sexual offences against young male colleagues between 2002 and 2013. Sarah Wollaston, the MP who told the complainants that they should go to the police, yesterday spoke out against claims she had pressurised them to do so.
"What would you do if, in a social setting, someone told you that they had been sexually assaulted by one of your most popular colleagues?", she said, "Would you have laughed off the allegation, or brushed it aside?"
Image: Getty