The majority of the British public continues to believe that selling off the Royal Mail was the wrong decision
On Tuesday Business Secretary Vince Cable defended privatisation of the Royal Mail against claims by a spending watchdog that the deal was mishandled. The National Audit Office report concluded that the sale was rushed and that the resulting undervaluation of Royal Mail shares meant British taxpayers lost out on £750 million.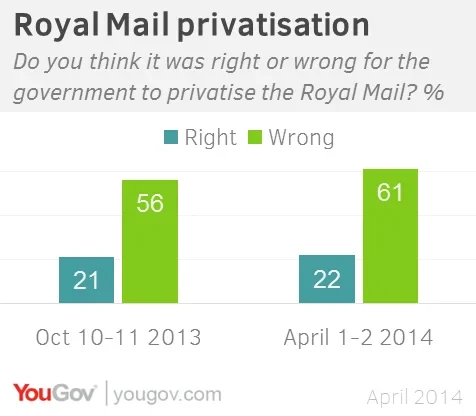 61% of British adults now say selling off the Royal Mail was a wrong decision, up slightly from 56% in October, days before shares were floated on the London Stock Exchange. The number backing the deal is virtually unchanged at 22%.
YouGov's polling has consistently found Royal Mail privatisation to be unpopular. Last July, two-thirds opposed the planned Royal Mail sell off.
However there has been considerable movement in the number who say the Royal Mail was sold too cheaply. In anticipation of the deal, 43% believed the Royal Mail was being sold for less than it was worth; now two thirds (66%) of the public do.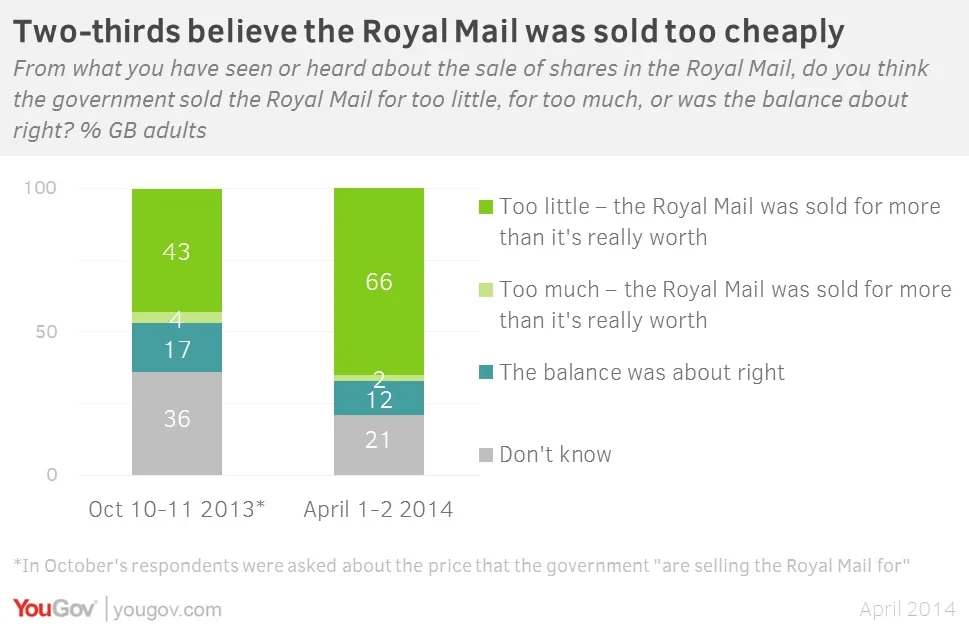 The belief that the Royal Mail was sold too cheaply is now shared by the majority of supporters of every major party, including 60% of Conservatives (up from just 34% in October) and 69% of Liberal Democrats.
Shares in the Royal Mail have increased 70% since their flotation, something voters may have taken note of even before this week's National Audit Office report. Mr Cable has insisted that taxpayers got value for money and that the government's valuation successfully avoided the risk of a failed sale.
Image: Getty