Compared to theatre, film and TV, few say video games have artistic merit – but could this be about to change?
"In 2014 the total value of the global video game industry will outstrip Hollywood, and not for the first time." That is just one, increasingly popular, argument for treating video games like other art forms – by giving them top priority awards ceremonies.
There are, of course, the British Academy Games Awards, which took place last week, but they attract a fraction of the media attention of their film and TV counterparts.
But are video games even art?
Most people (61%) say they cannot be considered as "art", while 27% say they can be. Even 54% of those who play games at least several times a year (46% of the population) dispute their artistic value, while 35% allow them to be called "art".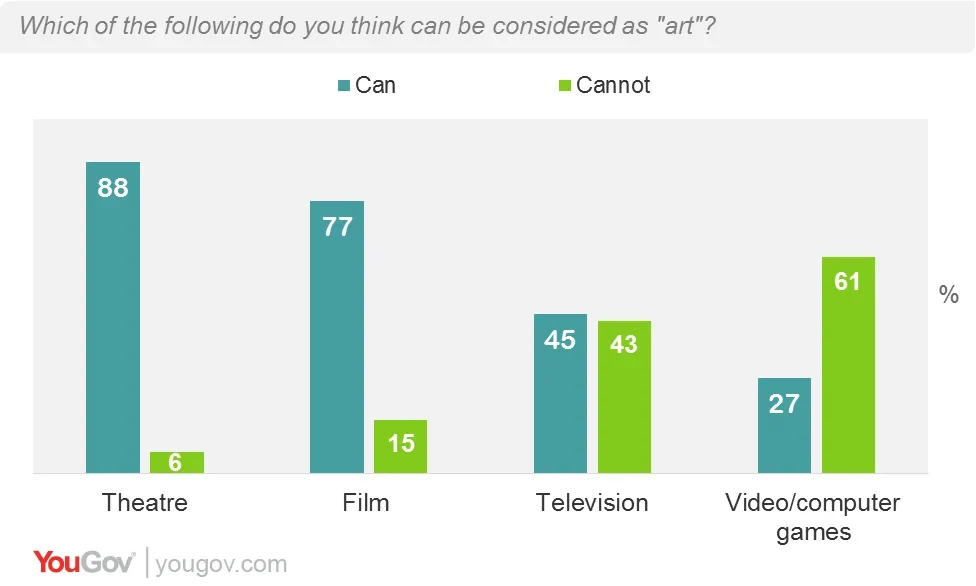 Compared to other visual arts, video games are considered by far the least artistic: 88% say theatre is art; 77% say film is; and 45% say TV is. Notably, the media most popularly considered to be "art" are also the ones that have been around the longest. Theatre has, of course, been around for centuries and film has been around since the turn of the 20th Century. On the other hand, the history of television in Britain only really began in the late 1930s (though BBC television broadcasting was then suspended during WWII). Video or computer games didn't reach mainstream popularity until the 70s or 80s, and only in the 90s did the gaming industry begin to resemble its present form, either in terms of technology or market size.
Age differences
The global gaming industry is expected to be worth $90bn by 2017, and young people appear particularly exposed to gaming culture – 18-24s are more than twice as likely to play at least once a year compared over-60s.
Young people are also more likely to see video games as having artistic merit. Though only 24% and 14% of those aged 40-59 and over 60, respectively, say video games can be considered as "art", 38% and 40% of those aged 18-25 and 25-39 feel they can be.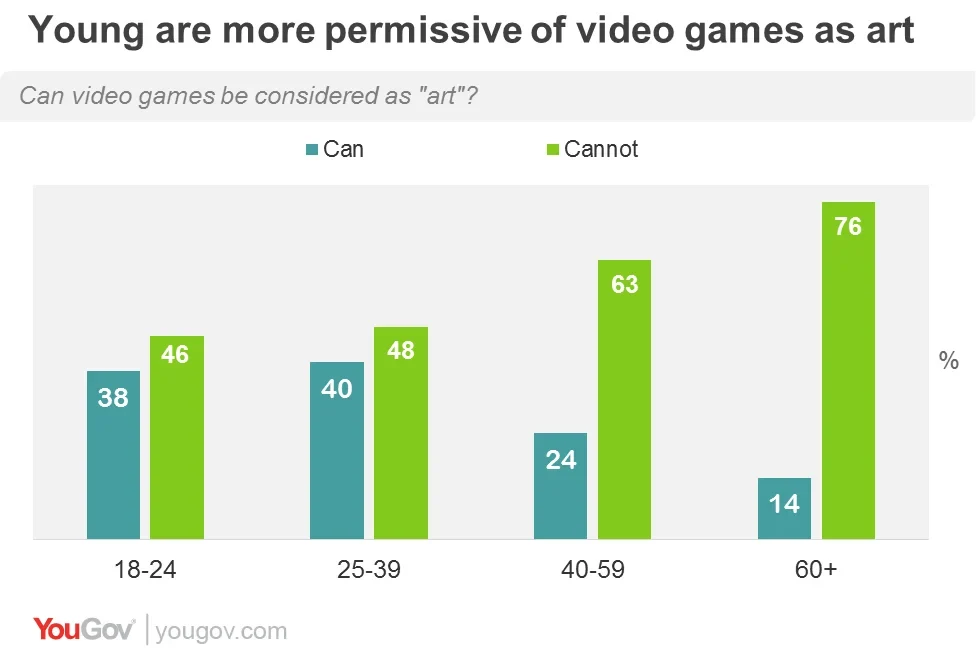 At the Baftas for gaming, zombie thriller Last of Us won five awards including Best Game, Best Action Adventure Title and Best Story. Rockstar, the maker of Grand Theft Auto V, was honoured with the Bafta fellowship award. Dan Houser, co-founder, said: "This is a tremendous honour to us as a mostly British-run company.
Image: Getty