43% say Labour leader should have promised a referendum outright; 32% say he was right to only offer one conditionally; 7% say he should have ruled one out completely
Ed Miliband recently declared that Labour would only legislate for an in/out referendum if more powers were transferred to Brussels – something he says is unlikely in the next parliament.
A new YouGov poll for The Sun reveals a mixed public response to his position.
The biggest group (43%) say that he should have, instead, promised to hold a referendum regardless of whether Britain transfers more powers to Brussels – as David Cameron has done.
32%, however, agree with Mr Miliband's position, saying it is right to only hold a referendum if our relationship with Europe changes.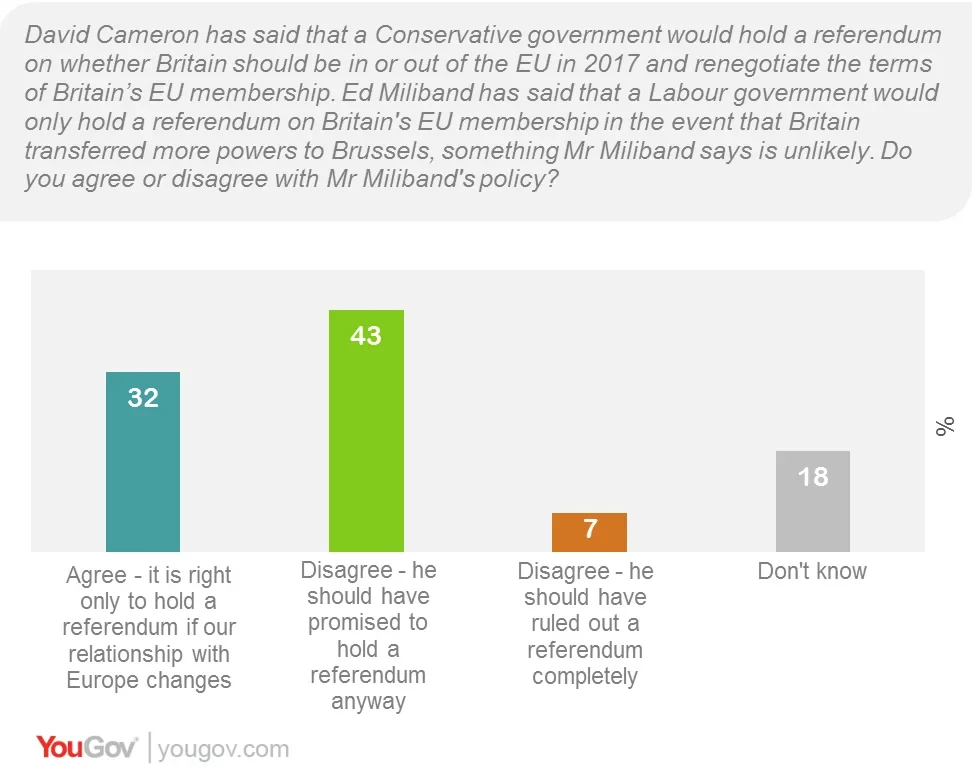 7% say the Labour leader should have ruled out a referendum completely – even if more powers are transferred to Brussels. 18% don't know.
As to whether the announcement has changed public opinion towards Ed Miliband, the effect is slight. Most people say their opinion has not been changed, either because they had a negative view (39%) or a positive view (14%) of him anyway.
Slightly more (17%) say they now think more negatively about him than say they now think more positively (11%) about him.
According to analysts, the decision was a compromise between pressure from Ed Balls, Andy Burnham and Jon Cruddas, who want to allay public hostility towards Europe, and fears that a referendum could be a distraction to a future Labour government. As one aide said: "We want reform but you don't achieve that by holding a gun to your own head in front of your European partners."
Image: Getty