64% of the British public say Oscar Pistorius is probably guilty – but 80% think placing bets on the verdict is unacceptable
The trial of Paralympian Oscar Pistorius for the murder of his girlfriend Reeva Steenkamp is only in its third day, but the British public have already made up their minds.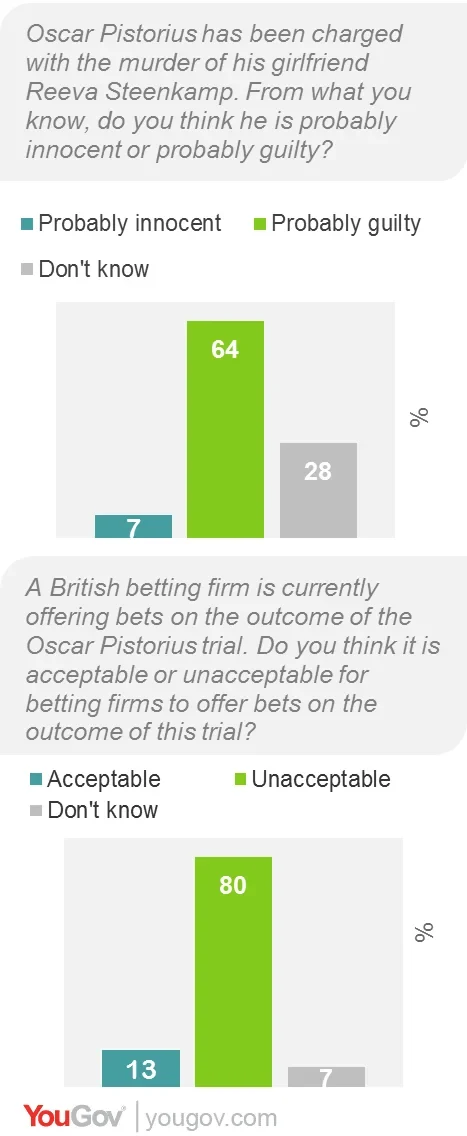 Today the court in South Africa heard that Pistorius's friend had once been asked to take the blame for him accidentally firing a gun at the floor of a restaurant, adding further doubt to the professed innocence of the former athlete.
To the public, that doubt is strong indeed: 64% say he is probably guilty. Among those following the story 74% think he is guilty, but even 61% of those not keeping up agree.
Aside from the controversy of the trial itself, betting company Paddy Power have added to the media attention by offering "money back if he walks" bets – with odds on a guilty verdict now at 11/10.
By a long way, people say this is unacceptable (by 80-13%). Men, however, are twice as likely (19%) as women (8%) to think betting on the trial is OK.
Yesterday, in the first day of the trial, Oscar Pistorius briefly covered his ears as neighbour Michelle Burger recounted hearing the "blood-curdling screams" of a woman (supposedly shot Reeva Steenkamp) in the early hours of 14th February last year. But Mr Pistorius's lawyer says a person who "had sustained that amount of brain damage would have no response" – Pistorius's team want to show the screams were the athlete, calling for help after accidental shots.
Image: Getty