YouGov research from Poland finds a sense of unrequited affection for Britain, particularly among young people
New figures from the Office for National Statistics showed that net UK migration rose to 212,000 in the year to September, up from 154,000 the year before.
The rise in new arrivals came from the southern European countries of Spain, Italy and Portugal – and Poland, whose immigrants have made up most of the Eastern European workers who have come to the UK since the EU expanded 10 years ago.
But what do the Poles really think of us? And what do they think about the British view of them?
Exclusive YouGov research from Poland reveals that while by 68%-25% Polish people have a positive view of Britain, by 50%-39% they perceive a negative view of themselves among British people.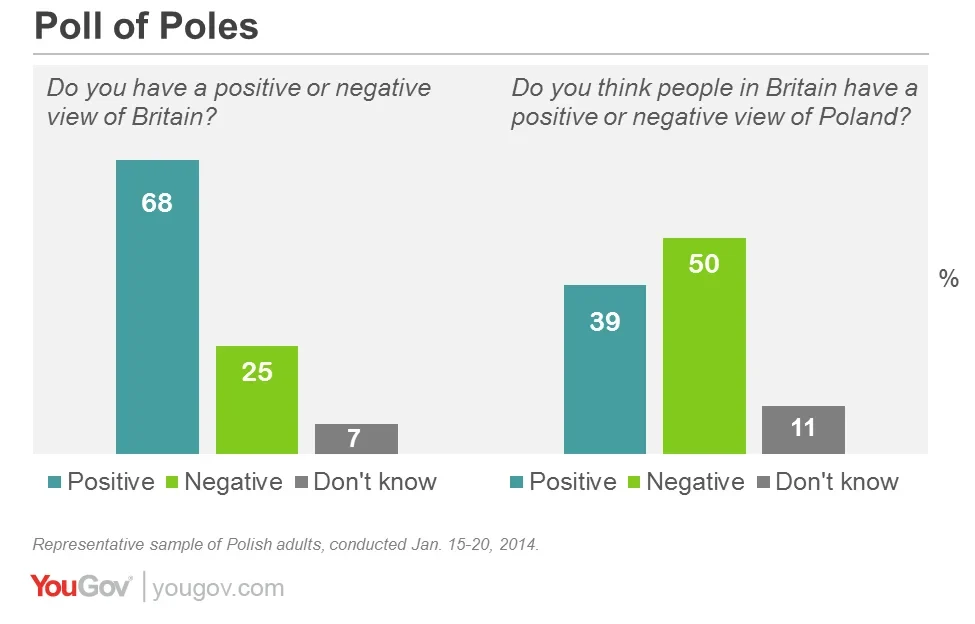 A generational shift?
While younger Poles view Britain more and more positively, they are also more and more concerned that British people do not return the esteem.
Positive views of Britain increase through the generations: 72% of those in the 18-34 age bracket feel positively compared to 65% and 63% of the 45-54 and 55 plus age-groups respectively.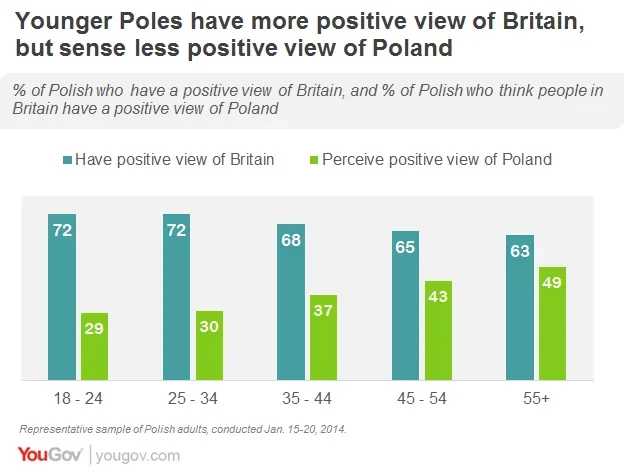 But at the same while Polish people aged 55 plus tend to think people in Britain have a positive view of Poland (49% say positive; 40% say negative), the younger age-groups tend strongly the other way.
60% and 61% of the 18-24 and 25-34 age-groups perceive a negative view of Poland in Britain, while only 29% and 30% sense a positive view, respectively.
The survey also asks how welcoming Britain is towards Polish people who go to find jobs in Britain. Although close, more Poles think we are unwelcoming (45%) than welcoming (37%).
In fact, YouGov research for Prospect Magazine in September 2013 suggested that by 38%-29% British people think Poles have had a positive effect on Britain.
Although immigration has risen, the increase in net migration (immigration minus emigration) is also partly due to a drop in the number of British citizens emigrating to other countries, and to an influx of job seekers from struggling southern European countries.
Image: Getty