The Book Thief has jumped to first for buzz and consideration – while the widely discussed Nymphomaniac struggles to be heard of outside London and Scotland
Opening in cinemas this weekend are vampire romance Only Lovers Left Alive, fantasy-mystery A New York Winter's Tale, Russian action movie Stalingrad, and – for one day only – the highly controversial five-hour sex epic: Nymphomaniac (Volumes I and II), directed by Lars Von Trier.
But stealing the show from them all is WWII drama The Book Thief, from Brian Percival (also director of seven episodes of ITV's hit period-drama, Downton Abbey).
It jumps up 20% in buzz from three weeks ago, to find 45% of moviegoers having heard something about it and 42% interested in seeing it.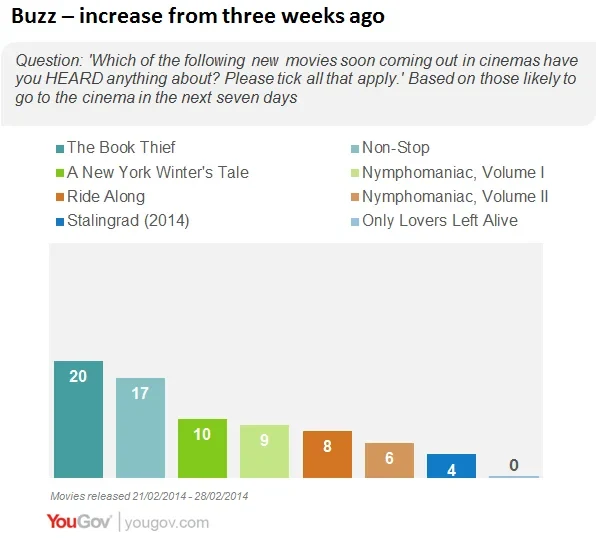 Only Non-Stop, Liam Neeson's new action movie, is noticed at a comparable level: 33% have now heard of it, up 17% since three weeks ago.
And Tilda Swinton's latest appearance (Only Lovers Left Alive) struggles to muster much recognition at all – only 7% have heard of it, unchanged from three weeks ago.
Nymphomaniac has attracted plenty of media attention, not all of it directly related to the movie's release. Last December, the film's explicit trailer was accidentally screened before a children's movie in Florida, and cast member Shia LaBeouf bewildered onlookers by wearing a brown paper bag over his head at the premiere this month. But while it has a buzz score of 21% in London and 16% in Scotland, it receives only 8%-10% elsewhere in Britain.