Unrealistic Barbie dolls have had a negative impact on society, say many women
Toy company Mattel's decision to sponsor a four-page Barbie pictorial in the swimsuit issue of Sports Illustrated has inflamed critics of the iconic fashion doll, who have complained for years that Barbie's ultra-lean physique sets unrealistic standards for young girls.
Yet "Unapologetic" is the theme Mattel has chosen for the social media campaign attached to the Sports Illustrated feature, and Barbie's defenders argue that her many careers – from astronaut to doctor to mum – should serve as an inspiration.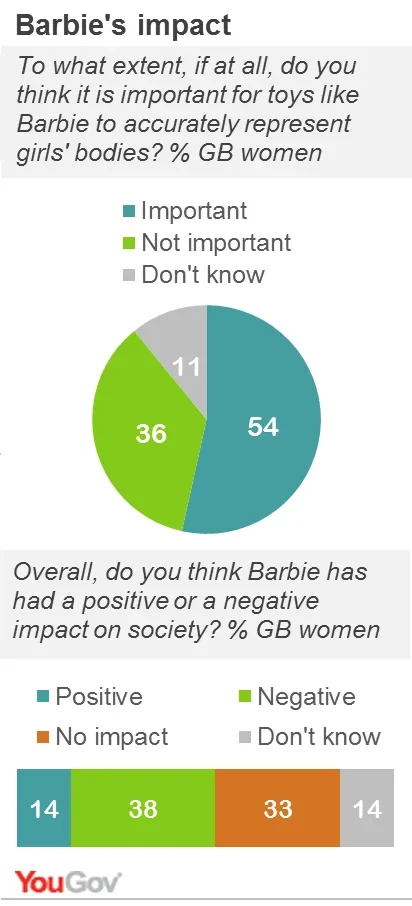 However, the majority (54%) of women – as well as 36% of men – say it is important for toys like Barbie to accurately represent girl's bodies. 36% of women say it is not important.
A top Barbie designer recently defended the doll's impossible proportions as important to making her more easy to 'dress and undress'.
The new poll also reveals that nearly four in ten British women think Barbie has had a negative impact on society while just 14% believe the toy has had a positive impact. One third (33%) of women say Barbie has had 'no impact'. A quarter of men also say Barbie has had a negative impact compared to 17% who say positive, but the majority of British men say Barbie has either had no impact (33%) or don't know (24%)
The American fashion doll remains hugely popular in this country: 42% of British women have owned a Barbie in their lives, though they were only introduced in 1959.
Nevertheless, the headline-grabbing partnership with Sports Illustrated magazine comes after a quarter in which Barbie sales tumbled by 13%.
Image via Nickolay Lamm