The story of Britain's first medal on the snow has already broken through as the most-noticed story of the Sochi Olympics, ahead of gay rights protests and a less-than-perfect opening ceremony
For weeks, coverage of the Sochi Olympics has been dominated by many issues that have little to do with sport. YouGov research showed how a late-December terrorist attack two hours from Sochi and controversial anti-"gay propaganda" laws depressed buzz about the Games, and that was before journalists began arriving and finding unfinished hotels, bizarre hygeine arrangements and dirty water.
However, after just one weekend of the Games, sport already appears to have reclaimed centre-stage in the British imagination, thanks to a thrilling bronze medal win by 33-year old British snowboarder Jenny Jones in the new Slopestyle event. Ms Jones' accomplishment – she is Britain's first athlete in the 90-year history of the Olympics to win a medal on the snow – was noticed by fully two-thirds (67%) of the British public, according to research conducted from February 10th-11th, topping a list of Sochi-related stories.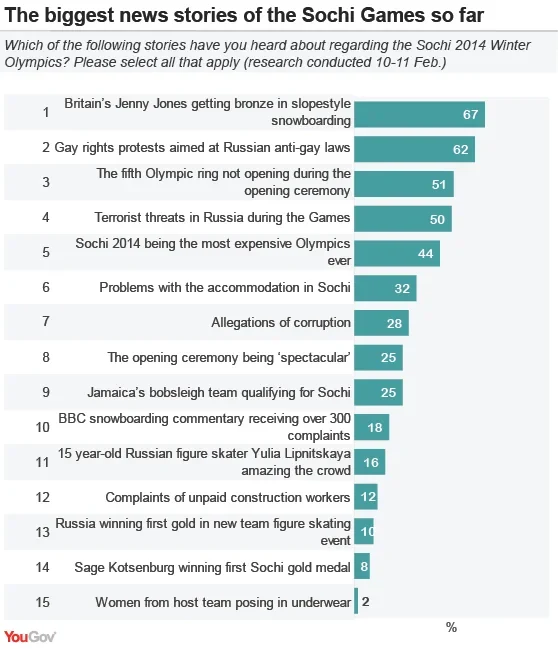 Russian President Vladimir Putin, who has personally responded to criticism of the Games, may not have reason to celebrate just yet, however.
The gay-rights controversy that has hung over the Olympics, led to visual statements by the likes of Google, The Guardian and Channel 4, and at one time spurred calls for an Olympic boycott, is still the second-most noticed story of the Games so far, followed by a technical malfunction at Friday's opening ceremony that left a display of the five Olympic rings one ring short.
The survey also found that people tend to think the often-critical coverage of the Games by Western media has been fair rather than unfair, by 45% to 14% (41% don't know).
However, there may be more positive sport-related stories to dominate coverage again before the Sochi Games finish on February 23rd. This year's UK Sport medal target is between three and seven medals, meaning Team GB believes it might be able to top the four-medal haul of the 1924 Games and make this the most successful Winter Olympics in British history.