Have you ever googled yourself? Don't worry, so has 51% of the population
Googling yourself (also dubbed 'egosurfing') can seem like a vain thing to do. But not everyone is waiting for their name to rise to the top of the search listings. It can also be necessary – deleting that old MySpace account with a drunken picture of you is probably a good idea – and who doesn't want to know who else has the same name as them?
Whatever your reason, you are not alone.
Most British adults online (51%) admit to having Googled themselves. And although there are clear age-breaks (70% of 18-24 and 69% of 25-39 year-olds have done so), still almost half (46%) of those aged 40-59 and a third (33%) of those over 60 have Googled themselves as well.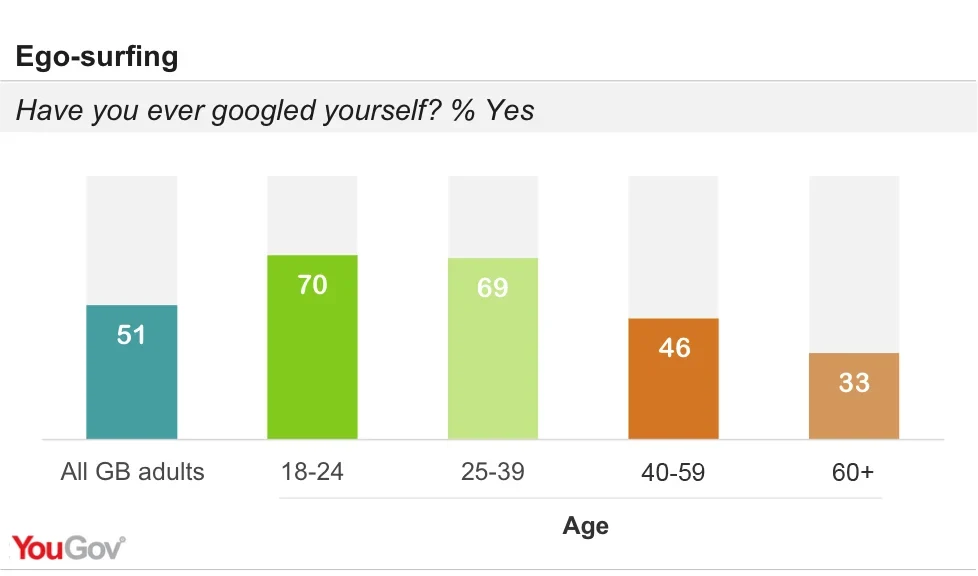 Interestingly, more men (56%) self-search than women (46%).
But unfortunately a quarter of British egosurfers (24%) have been disappointed; the online survey also finds that their self-search returned no results at all.
The median number of entries found by people who Google themselves is two to five, which makes sense considering many people have two or three social media profiles online.
The act of Googling oneself has been described as "the digital age's premiere guilty pleasure", as in 2008 a team of social scientists published a study concluding that egosurfing can partly be traced to the rise of narcissism in society.