Approval of Mr Gove's performance as Education Secretary is at an all time low
Education Secretary Michael Gove found himself in a row over the future of Ofsted last week, following his decision not to re-appoint Labour peer Sally Morgan as head of the schools inspectorate, a move that some have called politically motivated. Now a YouGov poll for the Sunday Times shows approval of Mr Gove's performance at the Department for Education has dipped further since last year.
In a survey conducted on February 6th-7th, 57% of the public graded Mr Gove's performance at the Department for Education 'badly', up from 54% earlier in the week and up from 47% in late February last year. In the latest survey only 20% said Mr Gove is doing well as Secretary of State for Education.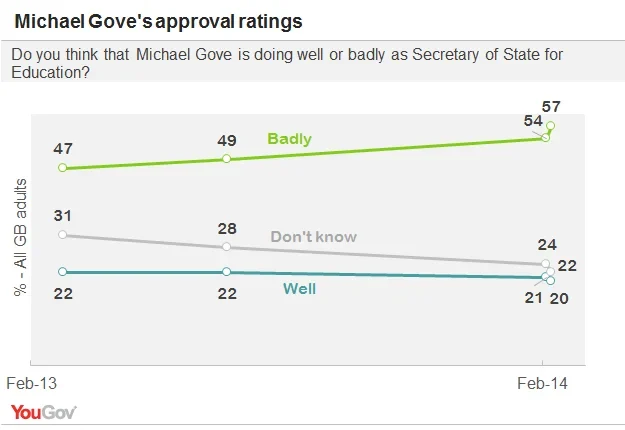 Notably, Mr Gove now receives positive marks from only 44% of Conservative supporters, and gets negative ones from 36%. In comparison, 93% of Conservatives say David Cameron is doing well and only 6% say badly. Overall, Mr Cameron's performance is rated 41%-52% badly amongst the general population.
And after a summer of news about the Mid Staffordshire NHS Trust scandal last August, health secretary Jeremy Hunt received better ratings (21%-52%) than where Mr Gove's are now. Chancellor George Osborne has also fared slightly better: in December, only 26% said he was doing a 'good job' compared to 46% who said he was doing a 'bad job'.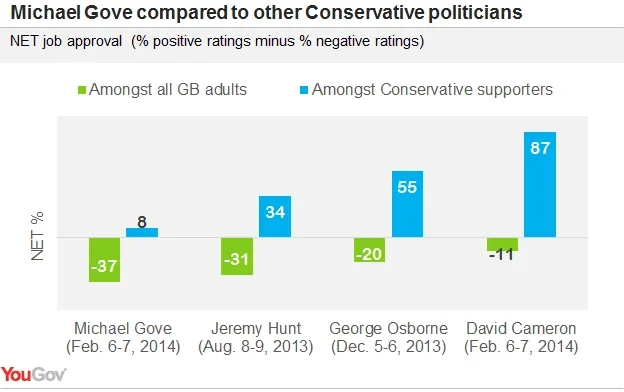 Voters on the side of 'The Blob'?
The Ofsted row may drag on. Over the weekend the Sunday Times reported that the removal of Baroness Morgan was part of a "wider cull" aimed at clearing the way for Mr Gove's education reforms in the face of resistance, particularly from his Liberal Democrat coalition partners and the educational establishment ­– what Mr Gove himself calls 'the Blob'.
When it comes to educational reforms, Britons tend to give the benefit of the doubt to 'the Blob': by 46%-19%, people hold the view that teaching unions and the educational establishment are "right in most of their concerns about education policy and school reforms" rather than believing these groups pose "an obstacle to necessary reforms".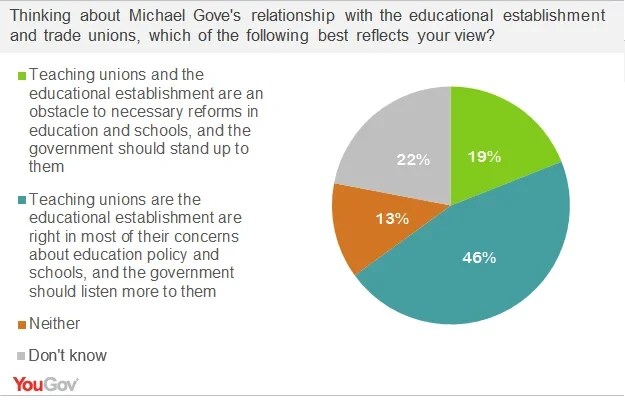 One of Mr. Gove's key reforms is the advancing of free schools, ten of which were approved in January. And in a recent speech the education secretary vowed to break down the "Berlin Wall" separating state schools from private schools by raising standards. He announced measures such as school days lasting up to ten hours, the introduction of common entrance exams and putting a greater focus on Classics in state schools.
Image: Getty
See the full YouGov/Sunday Times results