Support for Scottish independence gains one point from January, but 52% would still say 'no'
With seven months to go until the referendum on Scottish independence, a YouGov poll for The Sun tracking how Scots would vote finds little change since January. Then, as now, 52% would say 'no' to Scottish independence while 34% would say 'yes', up one point from January 21th-27th.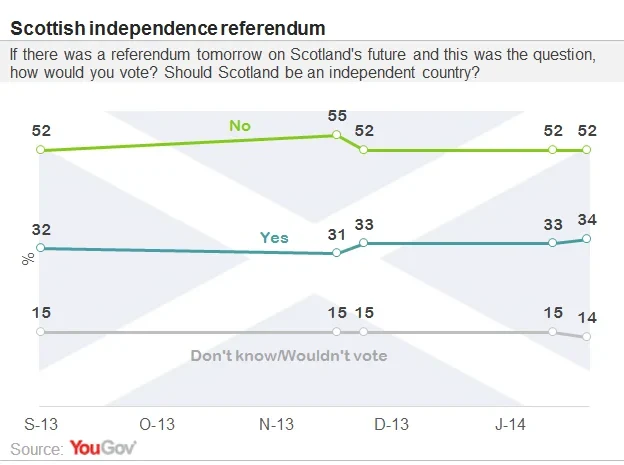 Among people who rate their likelihood to vote as eight or more out of 10, support for both options rises, putting 'no' at 55% and 'yes' at 36%.

The poll also included questions (asked after the referendum question) that reveal some of the challenges facing First Minister Alex Salmond and other pro-independence campaigners.
By 47%-25%, Scottish adults are inclined to say gaining independence would leave Scotland economically worse off rather than better off, with just 71% of 'yes' supporters thinking independence would be economically beneficial for the country compared to 85% of 'no' supporters who believe the opposite.
Another 12% think it would make no real difference to the Scottish economy if it was an independent country.
Additionally, the majority (52%) of the Scottish public – and 10% of 'yes' supporters – view the Union between Scotland and the rest of the United Kingdom as a 'good thing' for Scotland, more than twice the amount who see it as a 'bad thing' (24%) 17% think the Union is neither good nor bad for their country.
Scots do not view all of 'the rest of the UK' in the same way, however, and one fifth view England in particular negatively.
But overall, England, Northern Ireland and Wales are all viewed more positively than negatively by people in Scotland: 39% positively to 20% negatively for England, 36%-14% for Northern Ireland, and 47%-4% for Wales, the most popular of all three.
More Independence …for England
The poll also found that Scots are broadly supportive of greater devolution for England at Westminster.
In the event that Scotland does not become independent, 39% of Scots think England should have it's own Parliament, like the Scottish Parliament, which decides on issues like education and health in England.
Another 29% think that Scottish MPs should at least not be allowed to vote on issues that only affect England, as they can now, and that only English MPs should be allowed to do so.
Only 13% believe that Scottish MPs should continue to be allowed to vote on these issues, as MPs from all around the UK can currently do at Westminster.
The referendum on Scotland's independence is scheduled for September 18, 2014.
Image: Getty
See YouGov's Scotland trackers