In general, people do not think it's fair to be dismissed simply for becoming a bad news story - but once you add in the specifics of the Rennard case the scale tips against him
"I have become a distraction from what the Government is achieving"... "I realise I may have given an impression of wrongdoing"... "whatever the rights and wrongs of the matter I will not be able to fulfil my duties as I would wish."

These are the kind of resignation statements that we have become used to from politicians who are forced to leave their post before having been found formally guilty of any wrongdoing - simply because the media won't stop talking about it. They are, in effect, guilty of becoming a bad news story.
New YouGov research for the Times reveals that voters do not approve of them - at least not in theory. When quizzed about such cases in general, removing the details that it involves a politician, a Liberal Democrat, and the specific charges, the public takes a clear view in favour of the accused party.
46% say that someone should keep their role when wrongdoing cannot be proved, in this general case where their 'misbehaviour has damaged the organisation's public image'. 33% say they should lose their role.
But when the specifics of the Lord Rennard case are added in, the trend shifts substantially: 41% say he should leave the Liberal Democrats for damaging the organisation while 33% say he should stay.
While the margin in favour of being allowed to stay in the general case is 13%, when asked about the Lord Rennard case it is narrower: only 8% in favour of him leaving. And, interestingly, Conservative supporters tend to think he should be allowed to stay, by 41%-39%, while supporters of all the other parties favour his dismissal.
Lib Dem Reputation relatively unharmed
In a further set of questions, YouGov asked people to say whether each party 'gives the impression of being very sleazy and disreputable'. Although some have said the Lord Rennard case could turn into a "bloodbath", actually less people think the Liberal Democrats are sleazy (41%) than did when the story first broke in February 2013 (56%).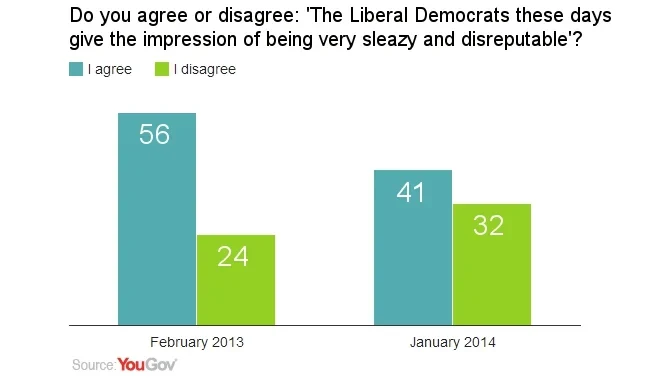 The Conservatives slightly outpace them as sleazy (42%), while 34% say the same of Labour.