The French public believe François Hollande's alleged fair should stay a private matter, a new YouGov poll shows
As the scandal over allegations of an affair between French president François Hollande's and 41-year old actress Julie Gayet – first brought to light by French magazine Closer – continues to make front pages of French and British newspapers, a new YouGov poll reveals that most French people think the matter should have been kept behind closed doors.
More than half (56%) say that the claims are a matter private to Mr Hollande, who has publicly been partnered with Valérie Trierweiler since 2010. 25% believe the allegations are relevant to the sphere of French public life.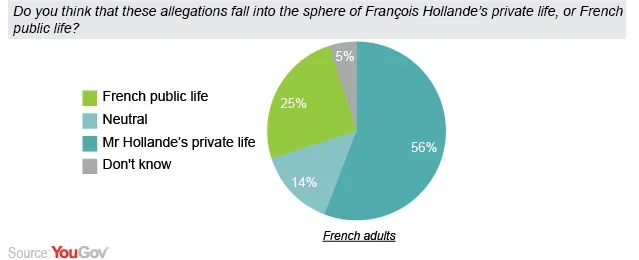 Opinions about Mr Hollande's situation may not be immune to partisan colouring. Supporters of opposition party UMP – whose leader was twice-divorced president Nicolas Sarkozy until his defeat in 2012 – tend to think the matter is in the public interest by 47% to 39%.
However, the French president still has not won over the public on the issue. By a margin of two to one (51% to 22%) those who watched the president's press conference on Tuesday (January 14th) found it 'unconvincing'.
Due to rules of French journalistic etiquette requiring deference to the presidency, journalists did not ask Hollande directly about the affair during the conference. When asked whether Ms Trierweiler was still 'First Lady' he commented that he and his partner were going through a "difficult, painful" period in their lives, adding "private matters must be resolved in private".
First Lady no more?
On matters relating to Ms Trierweiler's position as the 'First Lady' in France, which is not an official role, the French public are not convinced.
55% believe that First Lady should not be an official position, while over two-thirds (69%) think the budget afforded to Ms Trierweiler for her role as Mr Holland's official partner is 'unjustified'.
The office of Valérie Trierweiler is said to cost French taxpayers around 20,000 Euros per month.
A British point of view
People in Britain appear more likely than their neighbors in France to consider the allegations a matter of public interest.
British adults are split on whether it was right or wrong for the media to report about the affair, with 43% saying journalists were right to make the allegations public against 41% who think they were wrong to do so.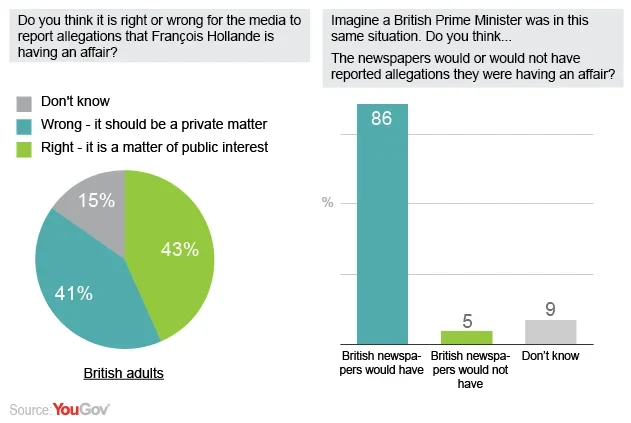 The greater tendency towards believing in making such things public may say something about the more cavalier British tabloid culture. The overwhelming majority of British people (86%) say that British newspapers would report it if a British prime minister were in a similar situation.
Image: Getty