Ed Miliband is seen as the most middle class party leader by voters – Cameron and Clegg tend to be seen as upper class
The Labour leader Ed Miliband will use a speech today to try to convince voters that breaking up the 'big five' high street banks can restore Britain's long-term economic prosperity.
The speech is central to bridging the gap between Labour's broader economic strategy and their focus on lifting the living standards of the 'squeezed' middle class, who Mr Miliband claimed only Labour can save in an article in Tuesday's Telegraph.
But whether Mr Miliband can cement himself in the public mind as the 'rebuilder' of Britain's middle class will to some extent depend on how he appears to voters.
A new YouGov survey reveals that people do indeed view Ed Miliband as middle class, and more so than any other contenders. 45% of voters think of the Labour leader as middle class, compared to only 38% for Nick Clegg, 36% for Nigel Farage and 15% for David Cameron. David Cameron is seen as upper class by 77% of voters.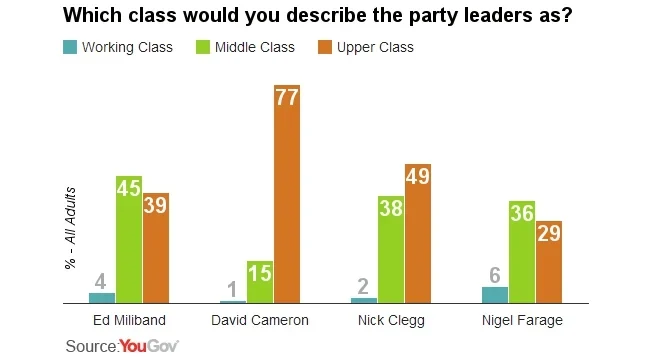 The only leader apart from Mr Miliband who tends to be viewed as middle class is UKIP's Nigel Farage, though by fewer: 36% to 29% who see him as upper class.
Which class are you?
The survey also asks people to report which class they belong to.
The public are almost split, with 46% saying they are working class, 41% saying they are middle class and only 1% saying they are upper class.
Labour and UKIP voters are the most likely to describe themselves as working class, by 61% and 59% respectively. In contrast, 59% of both Conservative and Liberal Democrat voters call themselves middle class.
Many believe the Labour leader is attempting to move his party on from the cost of living agenda he set at September's party conference, towards the key election ground of the economy. His plan to break up banks by restricting their market share has been criticised by the head of the Bank of England, however, who notes that such a rule exists in the USA but does not prevent banks becoming large financial institutions.
Image: Getty