51% of the UK population have a current library card and 47% have used a public library in the last 12 months
Campaigners predict that by 2016 1,000 public libraries will have been closed since 2009. The figure, calculated by the Library Campaign, adds the 349 that closed from 2009-2012 to reports of 340 planned closures in 2013, and the 400 more that could result from a 10% cut in local government budgets in 2015/2016.
A new YouGov survey finds that despite the fading presence of libraries on British streets, use remains strong: almost half the population (47%) have used a public library in the past 12 months.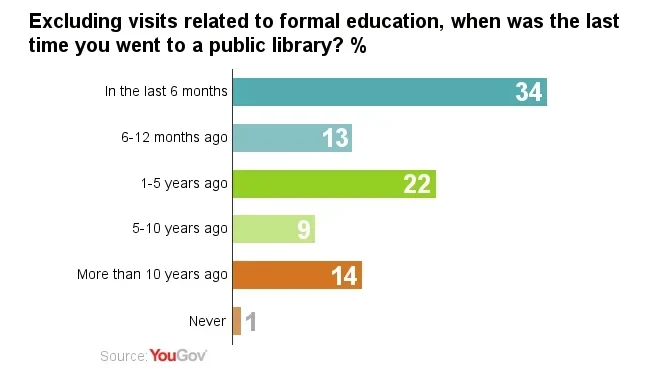 A third (34%) have used one in the last six months, while 13% have used one between 6-12 months ago. Only 1% have never been to a public library.
Additionally, the majority (51%) have a current library card (one that is not out of date), however only 42% of 18-24 year olds do compared to 62% of those over 60.
The Department for Culture, Media and Sport say that current usage of public libraries has fallen from 2005 levels of 48%. But many blame the drop on cuts: a spokesman for the Chartered Institute of Library and Information Professionals said "Local authorities have had to make tough choices, but libraries are under pressure and cuts to services will mean that visits drop".
Join YouGov today! Your views can shape the news…