As the New Year arrives, YouGov finds those making resolutions are looking towards exercise, weight and health
According to research, on average British adults consume 7,000 calories on Christmas Day – more than double the male and triple the female recommended daily intake. By 2pm on the 25th most of us have reached our usual limit, and many go beyond that with more cake, brandy butter and alcohol. It's perhaps no wonder, then, that early January is also notorious for being one of the year's busiest months for gyms and health clubs around the world.
Now a new YouGov survey for The Times finds that by far the most popular New Year's resolutions for 2014 are those concerning weight and fitness.
In the survey, conducted before New Year's Day, the majority (61%) said they would not be setting personal rules for the New Year, but a third (30%) said they would be. And of those who planned on it, most (51%) say they intend to do more exercise or improve fitness, and the second and third most popular resolutions are related: 47% say they want to lose weight, while 41% say they want to improve their diet.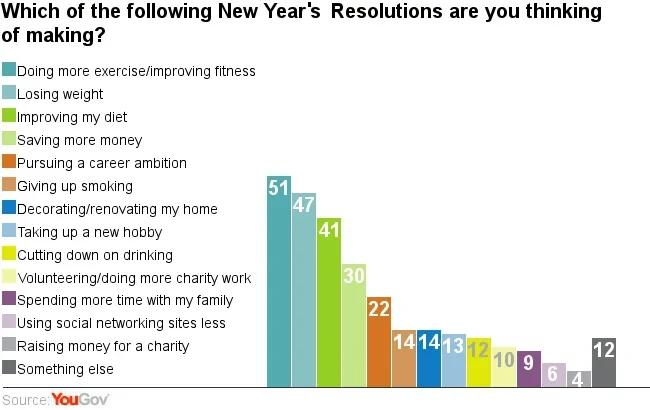 The next six most popular resolutions are all personal – including giving up smoking (14%) and cutting down on drinking (12%), both also health-related – while altruistic commitments come even further down the list: 10% say they intend to do more voluntary or charity work, and 9% say they are determined to spend more time with family.
But presuming the number making resolutions has remained roughly constant through recent years, it seems we are forgetful of doing so: in 2011 and 2013 27% and 30% said they would be making them, however only 18% say now that they made one at the end of 2012, and 11% say they can't remember.
Image: Getty