Of the four PMs that came before David Cameron, his immediate predecessor gets the lowest ratings
In the poll, conducted by YouGov for The Times, Margaret Thatcher is rated a 'great Prime Minister' by 23%, more than four times the number who call any other ex-PM great (Tony Blair is next, with 5%). Overall, nearly half of British people (48%) think Thatcher was either a good or a great PM. Meanwhile the public has the least regard for Gordon Brown, with just 12% saying he was either good (11%) or great (1%).
Gordon Brown also fares badly on the other side of the spectrum, with a third of the British public (32%) calling him a 'terrible' prime minister, more than anyone of the other three. And Thatcher, emerging as the most divisive figure of the four, is thought to have been a terrible PM by almost as many (22%) as think she was a great one.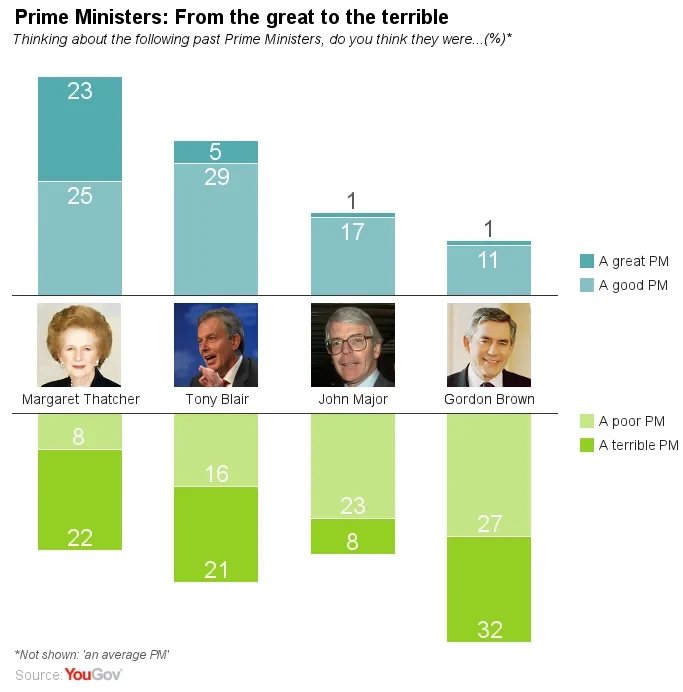 Not shown in the above illustration is the percentage who though the above were 'average' PMs; this was the most popular choice for John Major, whom 38% of British adults call average.
Political divisions
Predictably, responses are highly political. For instance, only 5% of Labour supporters call Margaret Thatcher great, while over half (53%) of Conservative supporters do, along with 38% of Liberal Democrats and 62% of UKIP supporters.
However, Margaret Thatcher appears to gain an edge by receiving more unified support from Conservatives, 87% of whom say she was either good or great, and UKIP supporters, 62% of whom say the same. Only 60% of Labour supporters call Tony Blair good or great, which is the most support he gets from any any political group.
Conservative voters are also much less likely to think critically about Thatcher, with only 2% calling her a poor or a terrible PM, while a third (32%) of Labour supporters have a negative assessment of Gordon Brown's tenure.
Images: Getty
Log in to YouGov and give your opinion on Britain's Prime Ministers...
Add ratingDescriptionWrite opinion
Add ratingDescriptionWrite opinion
Add ratingDescriptionWrite opinion
Add ratingDescriptionWrite opinion