Most people have yet to form an opinion on Pope Francis - but those who have approve of what he has done so far and many say he has made them feel more positive about the Catholic Church
Since he came to power, Pope Francis has had a huge amount of publicity. He is now the most talked about name on the internet in 2013, and in Italy Francesco has become the most popular name for new baby boys. Last week his popularity even threatened to endanger him – after delivering an impassioned sermon against corruption, in which he claimed those who stole from the state were leading a "double life and deserved to be tied to a rock and cast into the sea", experts warned the Mafia could consider assassination.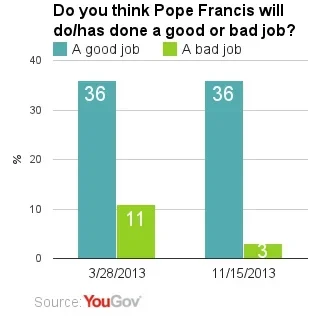 YouGov finds that, where he has made an impression, it has been a positive one, and one that has sustained for months.
When he was first installed as Pope in March, 36% thought he would do a good job. Now, 36% still say he is doing a good job, but where 11% thought he would do a bad job in March only 3% say he is performing badly today.
36% say that they had a negative opinion of the Catholic Church before Pope Francis and still do. However, 17% say Pope Francis has made them think more positively about the Catholic Church.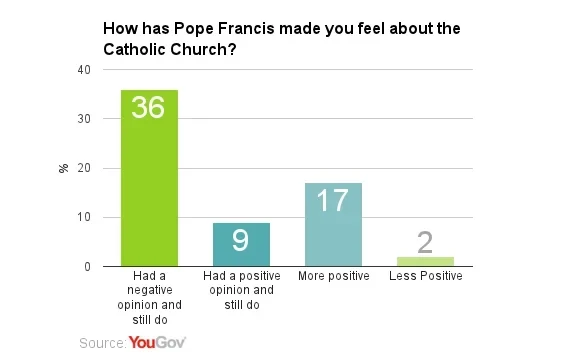 His liberal credentials are well reported. Since March he has swapped the traditional bulletproof 'popemobile' for a Ford Fiesta, and said the Church's obsession with abortion, gay people and contraception risks it "falling like a house of cards".
This has filtered through to public opinion: although 42% say they do not know if he will make the Catholic Church more or less liberal, more (31%) say he will make it more liberal than say he will make no difference (23%) or actually make it less liberal (5%).
Image: Getty