The public are now divided on the so-called 'bedroom tax'– but opposition has hardened among Labour voters
Labour lost an Opposition Day Debate yesterday which called on the government to repeal the 'Bedroom tax', the policy the government calls the abolition of "the spare room subsidy". In April this year the government reduced the amount of benefits those in social housing with 'too much living space' could claim. Critics however argue that those affected have nowhere smaller to move, meaning that 660,000 claimants, including 400,000 disabled people, will lose £720 a year "through no fault of their own".
In research initially conducted in March, respondents were told that the policy means a couple living in a house with two bedrooms, or a couple with one child but three bedrooms, would have their housing benefit reduced by 14%. Then, there was a tendency among the public to support the policy, by 49%-38%.
By September, however, sentiment had reversed, with 48% in opposition compared to 40% in support. British adults still tend to oppose the policy now, but the difference is slighter: 45% oppose while 43% support.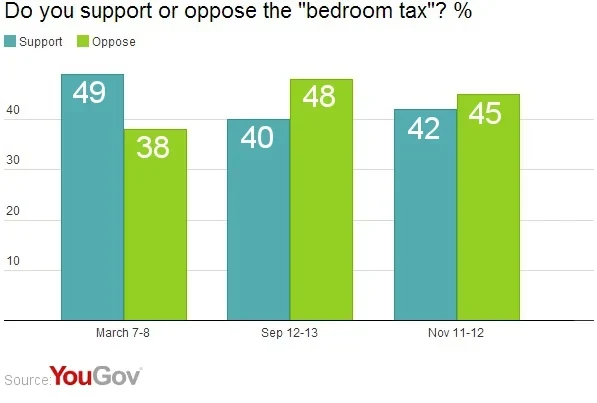 Despite feelings among Labour officials that backing the government's wider stance on welfare reform will be popular, they are said to view the bedroom tax as an exception.
Opposition to the policy has been hardening among Labour voters since March. While Labour detractors outnumbered supporters by only 22 points when the question was first asked, that figure has since jumped to 54 points in September and 50 points in November.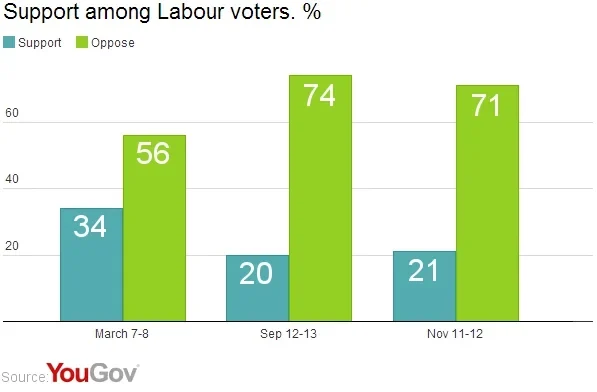 In addition to the debate in Westminster, a protest was staged outside. Labour lost the vote by 252 to 226 votes, as a majority of 26 voted against the motion to reject the bedroom tax. Notably, two Liberal Democrat MPs - Andrew George and party president Tim Farron - supported Labour's motion.
Image: Getty