The UK will join a small group of countries meeting the UN target on international aid this year, but public opinion is yet to catch up with Britain's Nordic counterparts
As India launched a £45 million spacecraft to Mars earlier in the week, inevitable questions were raised about the £280 million the UK gave to India this year in international aid, and more generally why the international aid budget is increasing when funding for many other departments is being cut. In March this year George Osborne pledged to spend 0.7% of national income on international aid in 2013 - meeting the long-standing UN target for developed countries. The UK will become the sixth country after Sweden, Norway, Denmark, Luxembourg and the Netherlands to meet this target.
YouGov's cross-country EuroTrack survey shows British people are more pessimistic about international than their Nordic counterparts in the 0.7% club.
We asked the public of the UK, France, Sweden, Norway, Denmark and Finland to rate how generous they think their government should be on overseas aid on a scale from one to ten, with 0 being nothing at all and 10 giving very generously.
The average score for Brits was 3.6, only the French are stingier (3.25). Swedes are the most generous, with an average score of 4.99.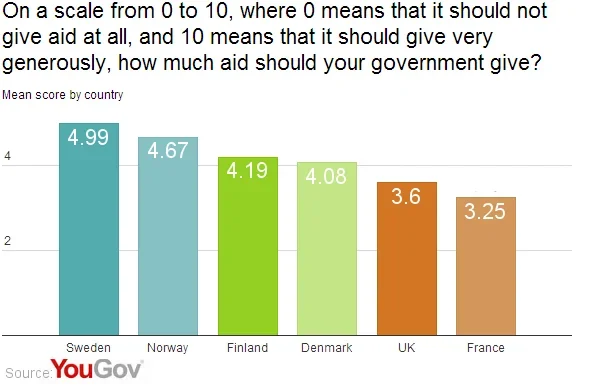 In the UK, 17% think we should give no overseas aid at all, the highest of the countries polled.
The lack of generosity by the British public could be a reflection on collective scepticism about the effectiveness of international aid. When asked to score effectiveness of aid on a scale of one to ten, with ten being 'very effective' and zero being 'very ineffective', British adults give the lowest average score (2.43).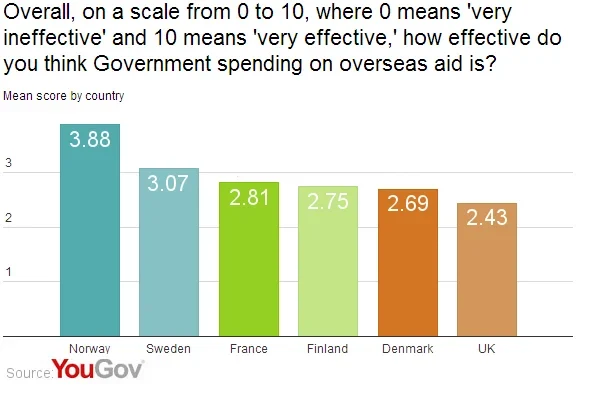 Swedes, the most generous nation, are also the most likely to see international aid as effective (3.88).
The Reality
In 2012, the UK spent just over half a percent (0.56%) of national income on international aid, with this set to rise to 0.7% in 2013. This will make it amongst the most generous nations in the world, although Sweden leads the way of the countries we polled, already spending almost one percent (0.99%) of its national income on aid.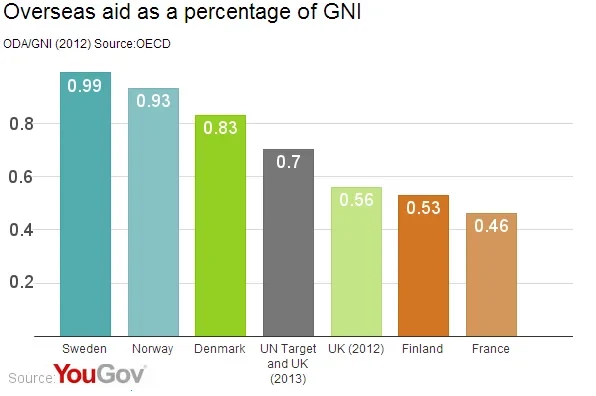 Across Europe there is little appetite for an increase aid budgets. A majority of the public in all the countries surveyed except for Sweden want their international aid budget to decrease.
Just 7% of British people want the overseas aid budget to increase, the lowest level of support along with the French. Two-thirds (66%) of the British public want it to decrease.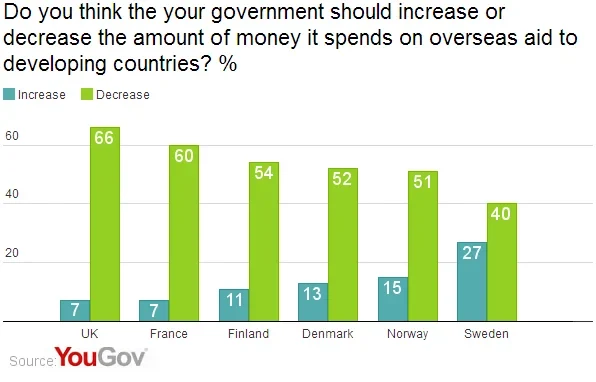 Swedes are also the most likely to want the international aid budget to increase (27%).
Image: Getty