Increasing capacity by upgrading existing trainlines – even if it means long-term disruption – is the preferred option for 40% of the public, compared to only 27% who want HS2 to be built as planned
A recently released government report has suggested that adding capacity to exisiting trainlines instead of building HS2 would mean 'years of disruption', involving thousands of weekend closures and longer journeys.
New YouGov research shows that British people would actually prefer the disruption to the major infrastructure project that would be HS2, however.
By 40% to 27%, the public prefer increasing existing capacity 'even if this requires long term disruption to weekend train services' to building HS2, the more expensive option. Additionally, another 19% would prefer if train capacity were not upgraded at all, meaning a combined 59% would prefer an alternative to HS2. 14% don't know which option they prefer.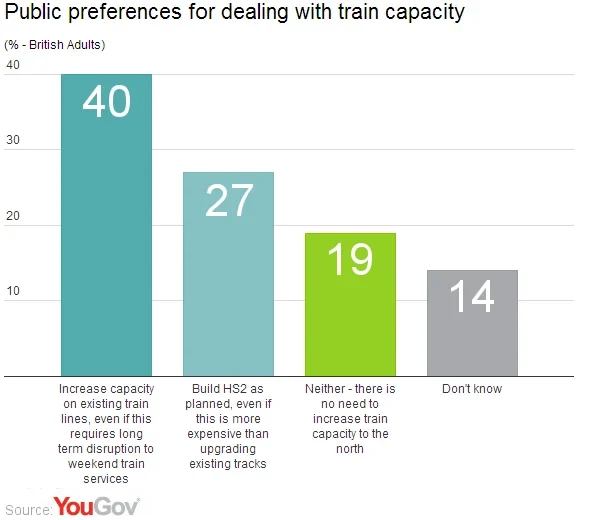 This summer cost projections for the HS2 scheme were revised up by £10bn to £42.6bn, rising to £50bn when the cost of trains are taken into account.
Public support for HS2 has decreased over the past year. Opposition reached its peak this September, when 55% said they were opposed and 29% were in favour. Opposition now stands at 53%, with support at 27%.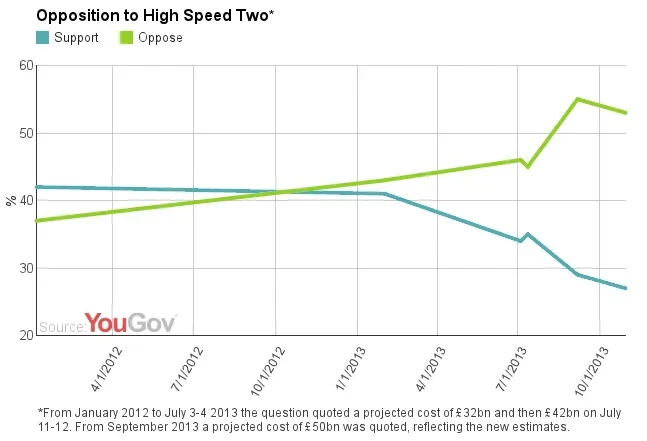 The report comes as many speculate whether Labour has set itself on a path towards opposing the controversial rail project, something which David Cameron has said would lead to the project being scrapped. While HS2 was initially proposed under Labour, shadow chancellor Ed Balls cautioned at this summer's party conference that there is 'no blank cheque' for the project.
Image: Getty