The public verdict is in: Facebook were wrong to allow beheading videos and Amazon were right to withdraw "Jimmy Savile zombie costumes" – but Thorpe Park should not close down the 'Asylum' maze
Three of this week's biggest controversies all have one thing in common: they started on the internet. Facebook decided they would not block beheading videos, but after the Prime Minister Tweeted that it was "entirely unnacceptable" of Facebook they decided they would; after "Jimmy Savile zombie costumes" were found on Amazon's website they promptly removed them; and news that Thorpe Park featured a Halloween ride called "The Asylum" sparked a row on the attraction's Facebook page, as campaigners said the ride stigmatised people with mental illness.
But what do the public think of this week's internet controversies?
78% of British adults say Facebook were wrong to allow people to post videos of people being beheaded, even if they are not glorifying or encouraging violence. Only 14% say they were right to do so.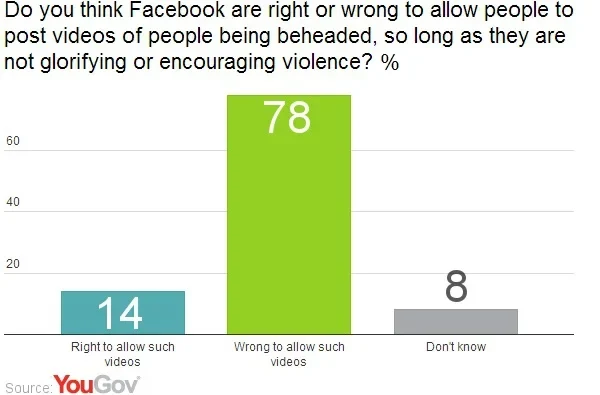 A quarter (25%) of 18-24 year olds think Facebook were right to allow such videos, however, compared to only 7% of those aged 60 or over.
On the Jimmy Savile costumes, 73% say Amazon were right to withdraw the costumes and only 17% say they were wrong. Young people are again more likely oppose intervention, though, as 29% of 18-24s say Amazon were wrong compared to only 7% of those over 60.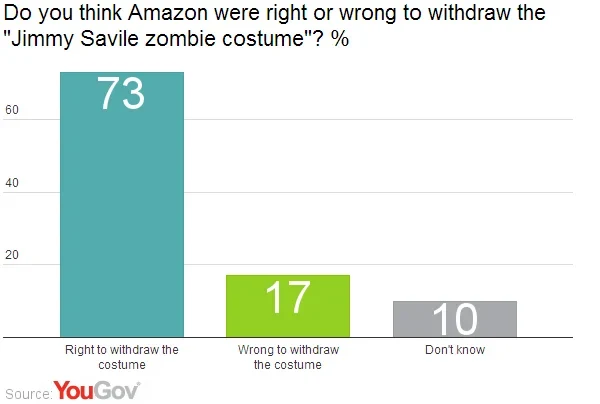 But regarding Thorpe Park's ride, the majority (55%) say the "Asylum maze" should not be closed down. 26% think that it should.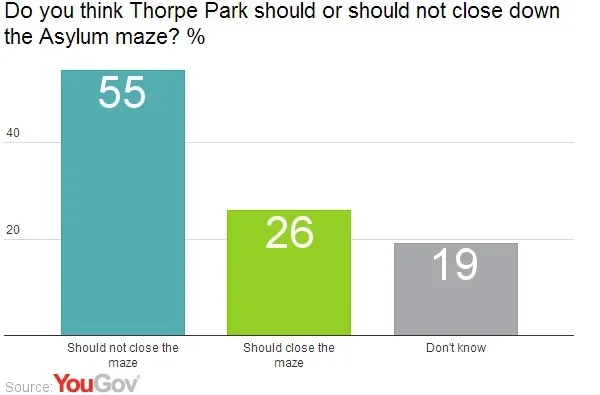 Thorpe Park has featured the ride, a "live action horror maze" made up of chicken wire fencing, smoke and strobe lighting, and various actors including a patient armed with a chainsaw to chase guests out of the exit, since 2005. Mental health campaigners, however, have said the maze stigmatises people with mental illness and launched a petition signed by over 3,000 people to get it closed. Thorpe Park say the ride is not intended to cause offence, and is clearly not supposed to be an accurate portrayal of a mental health institution.