Eleven months after new evidence cast doubt on police claims that Andrew Mitchell called a group of police officers 'plebs', the public remains largely trusting of the forces
Senior police chiefs are facing fresh criticism over their handling of the 'plebgate' incident, which took place outside the gates to Downing Street in September 2012. Home Secretary recently called an Independent Police Complaints Commission report on police conduct relating to the incident 'troubling reading'.
Surveys for the Sunday Times, conducted by YouGov, have tracked public perceptions of the incident since cracks began to show in the police officers' version of events in December.
There has been a moderate increase in the number who believe Mitchell is 'telling the truth', from 31% eleven months ago to 37% now, but the number who trust the police officer has not seen any significant increase or decrease at all.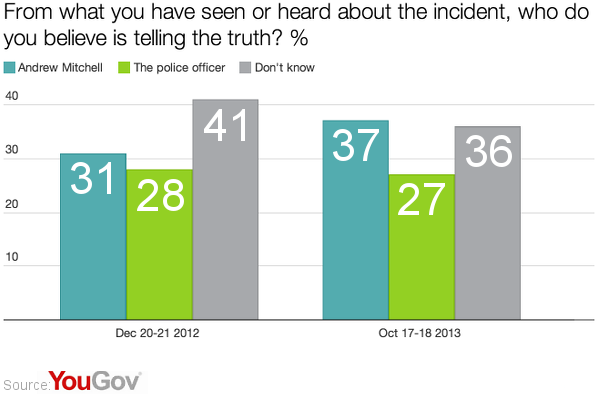 However, according to YouGov's trust tracker, which tracks the level of trust the public have in people from various professions to 'tell the truth', police officers in general remain largely well-trusted by the public, and significantly better trusted than politicians.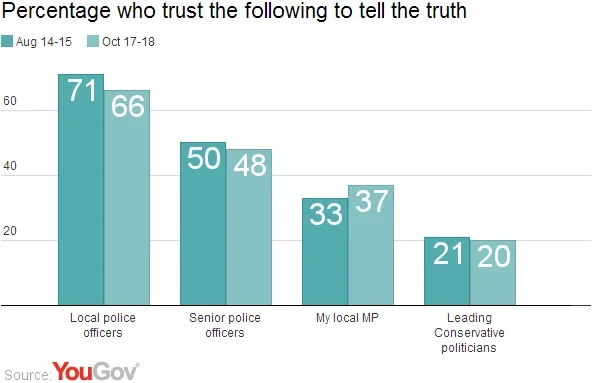 Indeed, the levels of trust in people of these professions have not seen a large amount of change in several years.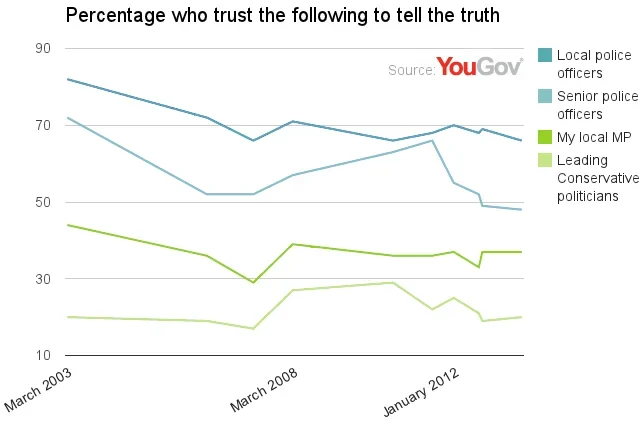 The latest criticism still comes as a blow to the police, whose version of events was first called into question in December, when CCTV footage emerged showing a scene different than the one described in the police log of the incident. It was also revealed that an email corroborating the police log – purportedly written by a member of the public – was actually written by a police officer.
Image: Getty
See the full Sunday Times results
Join YouGov today! Your views can shape the news…