Following a win over Poland pessimism about England's performance next summer has lifted slightly, although the favourites remain World Cup hosts Brazil
English football fans received a boost earlier this week, when England sealed their place at next summer's World Cup in Brazil with a 2-0 win over Poland. The win ensured England avoided a tricky play-off and go directly into the draw on the 6th of December. England manager Roy Hodgson described the moment as his "proudest moment in football".
Despite historically low expectations, the win has raised a glimmer of hope about England's chances of success.
Following Tuesday's game, the tiny group who think it's likely England will win next year has grown (from 4% to 8%) and the group who think the opposite has shrunk, particularly the number who say it is 'very unlikely' that England will win, which is down 12 points from just a few days prior.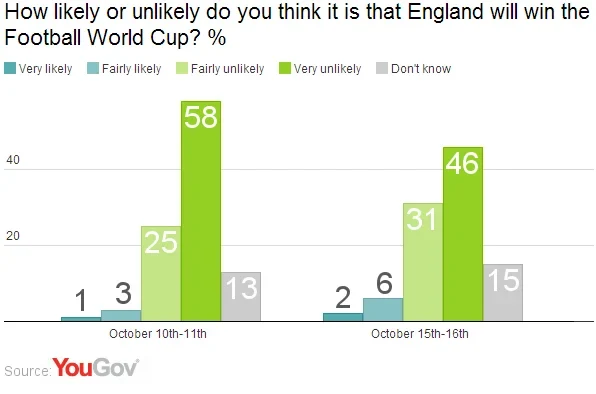 Still, the proportion who still think such an event is unlikely shows that British public recognise what the bookies have already acknowledged: an England win would be a long shot. And when it comes to who Britons think will actually win, expectations are also in line with professional bookmakers.
Excluding the 32% of British people who don't know who they think will win in 2014, almost half (46%) pick Brazil, who are hosting next year's world cup. The only other teams with more than 10% are 2010 champion Spain, with 18%, and Germany, with 16%. Just 4% of people with an opinion, or about one-in-25, expect England to win.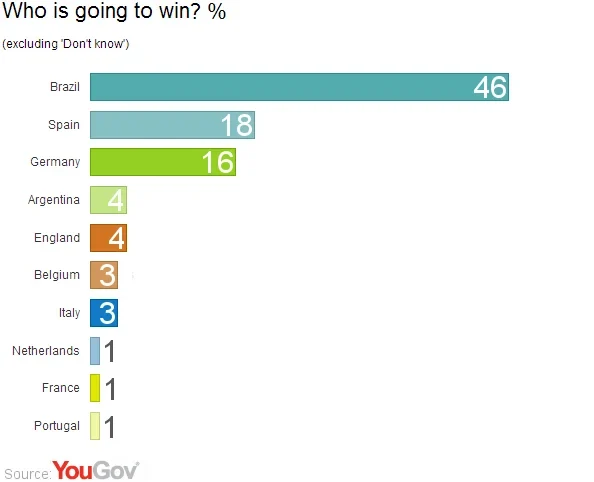 Hosts Brazil are favourites on Betfair with odds of just under four-to-one. England are sixth favourites, one of three countries – also including 2006 champion Italy and 2010 finalist the Netherlands – who have odds of 21-to-one on the betting site. No European team has ever won a World Cup in South America.
Image: Getty