Most Americans think that solitary confinement is an acceptable form of punishment, but there is a partisan divide over whether the US imprisons too many people.
Last week Herman Wallace died of cancer three days after being released from prison. He had spent 41 years in solitary confinement at Angola prison in Lousiana, after allegedly murdering a prison guard. The length of his confinement prompted outrage from human rights activists and, together with two other men also held in solitary confinement for decades at the prison, was subject of a documentary on the 'Angola Three'. Many countries have made it a last resort punishment. Most European states, along with the UN, consider long periods of solitary confinement a form of torture, but in the US at any one time there are around 80,000 people being held in solitary confinement.
The latest YouGov research shows that the majority (56%) of Americans think that solitary confinement is an appropriate punishment in certain circumstances. 16% of people think that it is inappropriate, but that it is not a form of torture, while only 13% consider it to be a form of torture. When asked what was the maximum acceptable period to keep someone in solitary, 55% of people say a month or less, though among these 27% say that a week or less is the maximum acceptable time.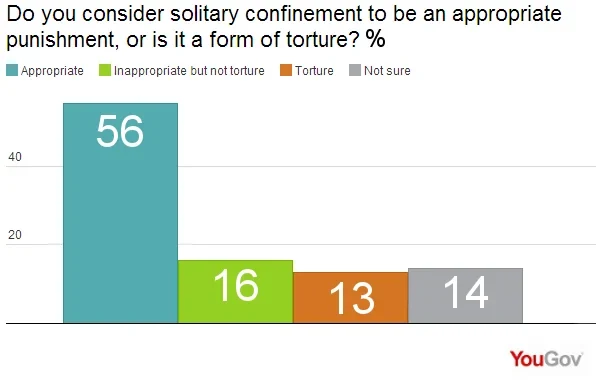 When asked about general levels of people imprisoned in the US there is a wide gap between Democrats and Republicans. Almost half of Democrats (49%) said too many, while many Republicans (39%) said too few.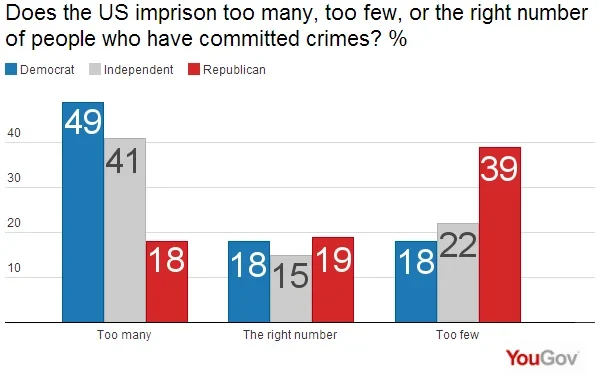 Asked whether or not current living conditions for prisoners are too harsh, Republicans (70%) overwhelmingly believe that current conditions are too easy on prisoners. Many Independents (47%) also agree, while Democrats more divided, with 33% saying that conditions are too easy and 30% saying that conditions are appropriate. Democrats (15%) are also the most likely to say that conditions are too harsh.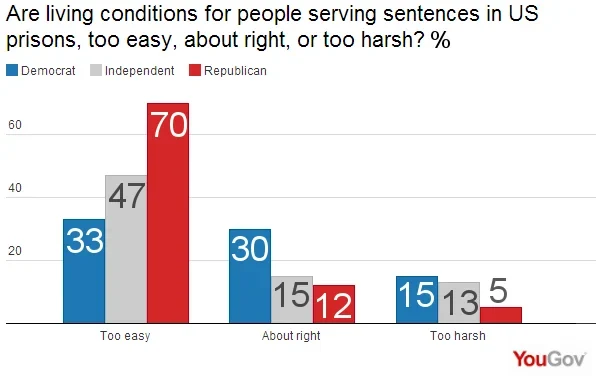 Interestingly, attitudes for those who knew prisoners and former prisoners did not vary much compared to people who did not know prisoners - in fact, if anything, people who knew prisoners were marginally more likely to take a harsher line towards prisoners.
The US has the highest prison population on earth, both absolutely and per capita, with more than 2.25 million Americans locked up.
Full poll results can be found here.
Image: Getty.