People tend to think that economic growth should be a priority over reducing inequality, but there is support for a higher top rate of tax
The IMF increased its forecasts for UK growth last week, predicting that the UK economy will grow at 1.4% this year and 1.9% in 2014. Despite these encouraging forecasts, the amount of people relying on food banks has trebled in the last year and a new debate has emerged about growing inequality and the importance of economic growth. Robert Shiller, joint winner of last week's Nobel Prize for economics has claimed that income inequality is the "most important problem".
A YouGov survey for Prospect magazine has shown that people tend to think that economic growth should be a priority, but there is sympathy for raising the top rate of tax.
When presented with a forced choice between promoting faster economic growth or reducing the gap between rich and poor, nearly half (48%) of the public say the Government should give higher priorty to promoting growth, while 40% think reducing inequality should be a priority with 12% unsure.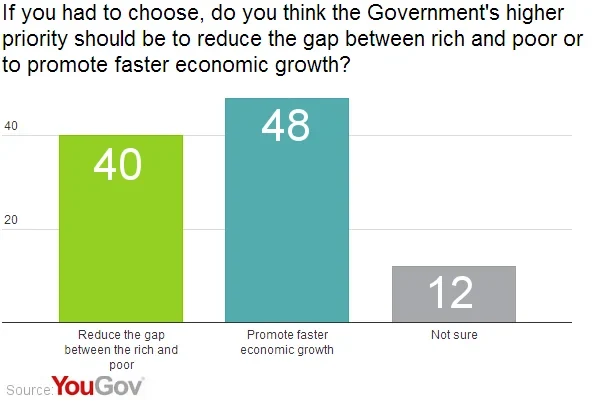 However, there is also support for an increase in the top rate of tax from 45% on those earning over £150,000, a policy aimed at redressing the gap, with 50% the prefered top rate of income tax. Overall, almost half (49%) think the rate should rise from its current level, 18% think it should remain as it is and 20% think it should be reduced.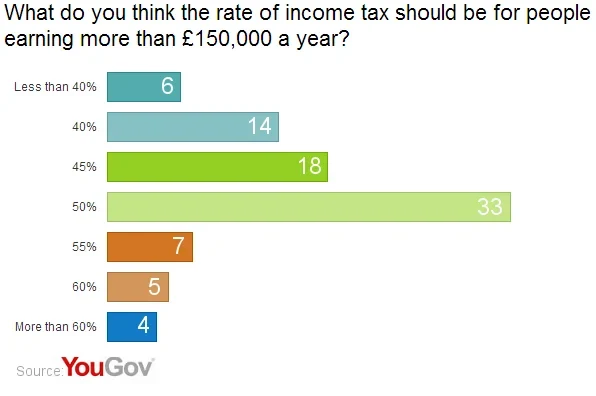 The top rate of income tax remained at 40% between 1987 and 2010. An additional 50% rate was introduced by Alistair Darling in 2009 before being reduced by George Osborne to 45% at the 2012 budget.
Image: Getty