YouGov tracking data from London-only polls shows that Boris Johnson's approval remains fairly constant – but the number of enthusiasts is increasing
Boris Johnson is reportedly making new fans in the Far East – while on a trade visit with George Osborne to China, the Financial Times described the mayor "bowl[ing] over the crowd with his fluid conversational style and trademark humour".
But how do Londoners back home view him?
In the first four months of 2012, on average 57% said he was doing well at his job while 35% said he was doing badly. From May 2013 to October, however, his approval has risen to on average 64%, while his disapproval has fallen to 26%.
Most noticeable though is the more than trebling in number of those who say he is doing 'very well'. In January 2012 only 7% said this, but this has steadily risen to its current peak of 23%.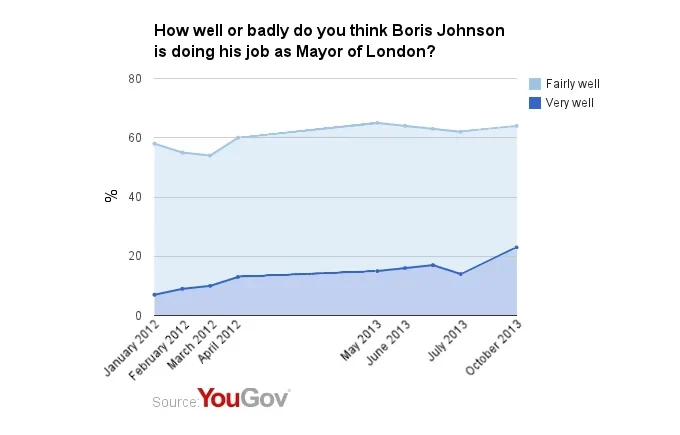 Mr Johnson is also popular with a majority of voters across parties: although the most recent poll found that 45% of Londoners intend to vote Labour in the next general election, 55% of Labour supporters there say their mayor is doing well, joining 62% of Lib Dems and 92% of Conservatives.
Mr Johnson has recently signalled his intention not to stand as London Mayor in 2016, and said that "during the whole Syria thing… I wished I was in Parliament." David Cameron has said he "absolutely" could be an MP, even as early as 2015.
In a YouGov poll for the Evening Standard the majority of Londoners (52%) think that if he is elected as an MP he should stand down as Mayor, however. 36% say he could continue as Mayor, as Labour predecessor Ken Livingstone did in 2000-2001.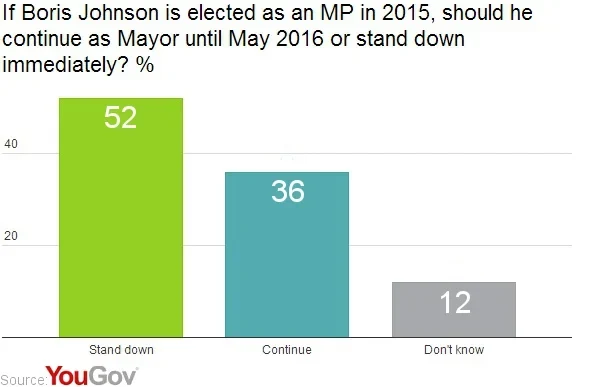 Alternatively, if he does not become an MP, 42% say they would like him to stand as Mayor again and they would probably vote for him. 18% say they would like him to stand though they would probably not vote for him and 25% say he should stand down in 2016.
Boris Johnson and George Osborne are both seen as potential leadership candidates for the Conservative party. But despite claims that Boris had 'out-charmed' the Chancellor in China, Mr Osborne insists that he and Boris are like "yin and yang".
Image: Getty