78% of people - including three quarters of Labour voters - think the last Labour government admitted too many immigrants into Britain
Following the government's Immigration Bill launch last week, which includes proposals to charge immigrants for using the NHS, force private landlords to quiz tenants about their immigration status and restrict bank accounts for illegal immigrants, Labour leader Ed Miliband claimed that "low skilled immigration was too fast" when his party was last in government.
YouGov finds overwhelming agreement on this, even amongst Labour voters.
78% of British adults agree in a poll for the Migration Matters Trust that the last Labour government admitted too many immigrants into Britain. Only 13% disagree and 9% don't know.
Conservative and UKIP supporters agree almost unanimously, by 92%-5% and 98%-2%, respectively; however, Labour voters and Liberal Democrats agree too, by 74%-17% and 59% to 32%, respectively.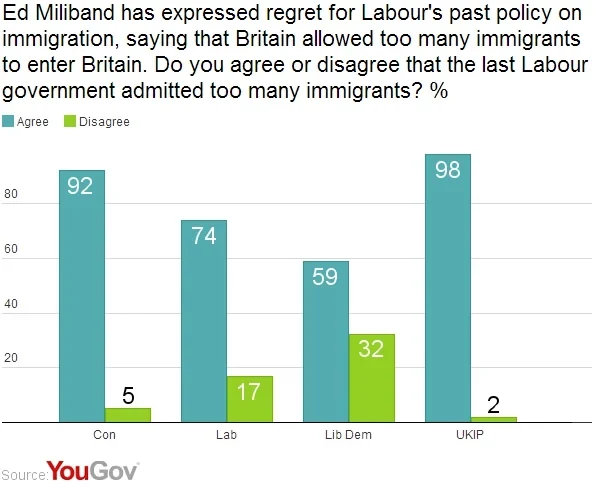 Ed Miliband has also said recently that that a Labour government would curb the number of low-skilled migrants allowed to enter Britain, and would require companies to appoint a British apprentice for every worker they hire from outside the EU.
Labour are consistently outperformed by the Conservatives on the issue of immigration however, which voters regularly register as the second most important issue facing the country - after the economy – and the fifth most important issue facing themselves and their families.
The Conservatives currently enjoy around a 12 point lead over Labour on tackling asylum and immigration, however this is down considerably from its 2010 level of over 20 points – mainly due to the rise of UKIP.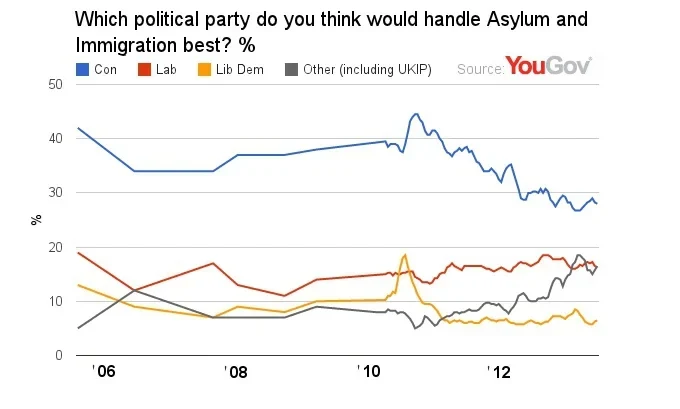 The public are split over whether immigration would be worse under Mr Miliband if he became Prime Minister. 45% either say immigration policy under Ed Miliband would be worse than under the last Labour government (11%) or will remain as bad as it was (31%). 35% say it would either be better (30%) or will remain as good as it was (5%).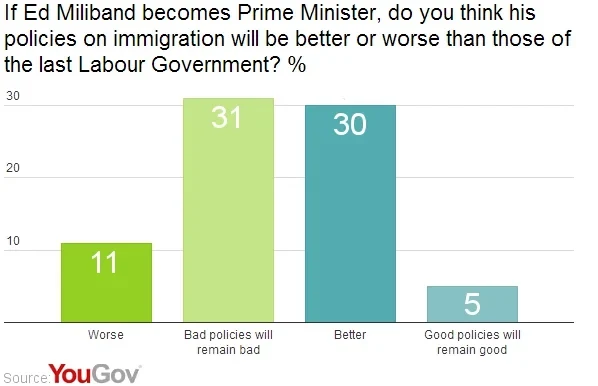 Immigration has caused significant controversy over the last two days, after the EU Commission disputed government claims of "benefit tourism" by migrants. While the Telegraph claimed on Sunday that "600,000 unemployed migrants are living in Britain...at a cost of £1.5 billion to the NHS alone", the Commission notes that the figures include those economically inactive not due to unemployment, but to age, disability and being a student.
It also notes that in the UK EU migrants account for just 4% of Jobseekers allowance claimants, while making up over 5% of the total workforce.
YouGov's survey for the Migration Matters Trust also suggests that EU migrants are not the British public's chief concern: 60% say illegal immigration is a bigger problem than the issue of too many migrants coming to Britain legally.
Image: Getty