Only 22% of the public think people under 18 should be allowed to drive
Young drivers should not be able to take their driving test until the age of 18, according to a Department of Transport report released yesterday. Under the proposal, drivers would be able to start learning at the age of 17, but would have to drive under supervision for at least 120 hours and be over the age of 18 before they can take their test.
A YouGov poll conducted in April found that most people in Britain also believe the legal driving age should be 18 or higher.
When asked to state the age at which driving a car should become legal, about three-quarters (74%) picked an age over 17. Only 16% of the British public people feel the driving age should be 17, and 18 was by far the most popular choice (46%). A further 19% feel that the legal driving age should be 21.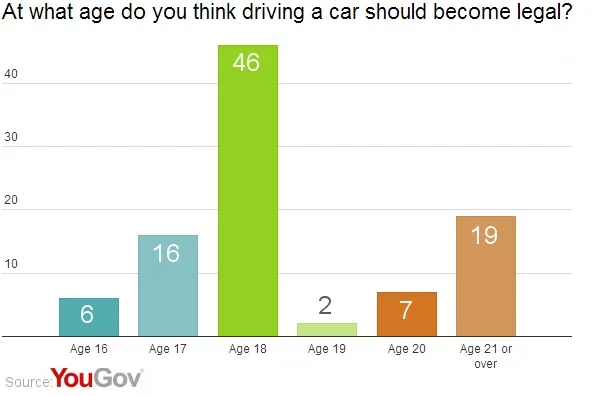 The recently-released report also proposed introducing a "graduate" licence, accompanied by a green P plate, which would place restrictions on a young driver in the year following their test, meaning drivers would be at least 19 before they have a full licence.
The AA have welcome some of the proposals, but warned against measures that forced young drivers off the road "by regulation and restriction", preferring measures that help drivers develop the right attitude towards driving.
Image: Getty