69% of the public - and 57% of Daily Mail readers - think the Daily Mail should apologise for the language they used about Ed Miliband's father
An article in the Daily Mail this week which claimed that Ed Miliband's policies were a "homage to his Marxist father" Ralph Miliband who "hated Britain" attracted a barrage of criticism. After being granted the right to reply in an article in the paper, in which the Labour leader protested that his father had fought the Nazis in the Royal Navy and "loved Britain", politicians of all stripes weighed in to defend the Labour party leader.
New YouGov research for the Sunday Times reveals that 69% of the British public think that the Daily Mail should apologise for the language used. This figure includes 57% of Daily Mail readers.
19% say the paper should not apologise, while 12% don't know.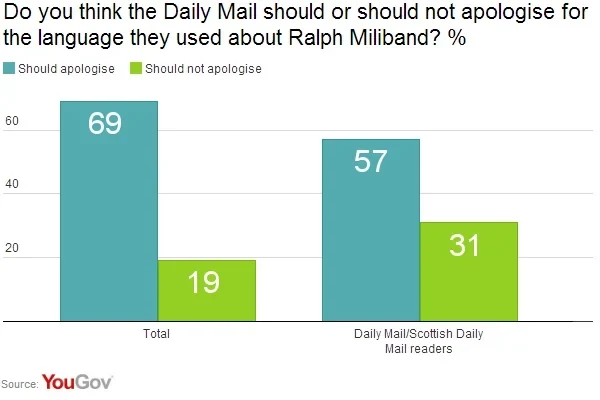 78% say Ed Miliband was right to complain about the paper's treatment of his father and demand a right of reply. Only 11% say he was wrong and another 11% don't know.
72% say the wording of the Mail's original article, specifically regarding the accusation that the Marxist academic Ralph Miliband "hated Britain" and had left an "evil legacy", was unacceptable.
In general, 72% say it is not acceptable for newspapers to criticise the relatives of politicians. In principle, 65% say it was unacceptable for the paper to write about and criticise Ralph Miliband's views and what influence they may have had on Ed Miliband.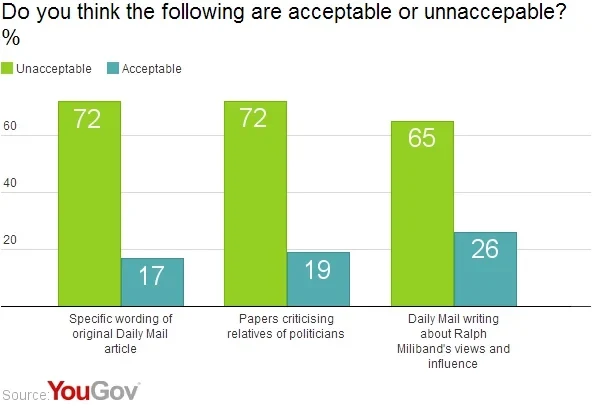 In terms of the impact the episode may have had on Ed Miliband's reputation, 26% of the public say the affair has made them view him more positively while 5% say it has made them think less of him.

Today's voting intentions poll for the Sunday Times puts the Labour lead at 5 points.