Stopping housing benefit for under 25s not in employment, education or training is favoured by 45%-36%, but stopping their jobseekers allowance is opposed by 49%-35%
David Cameron's conference-closing speech on Wednesday was light on policy, bar a suggestion, later confirmed, that a majority Conservative government would stop housing benefit and jobseekers' allowance for 'neets' - under 25s not in employment, education or training. The young should be made to "earn or learn", he said.
New YouGov research for the Sun finds that 45% of British adults say it would be fair to stop housing benefit for 'neets', while 36% say it would be unfair.
70% of Conservative and 62% of UKIP supporters are in favour of the policy, while Labour and Liberal Democrat voters tend to oppose.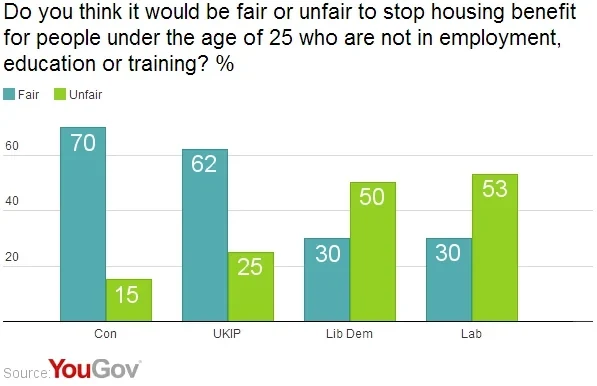 Stopping jobseekers allowance for 'neets' is less popular, however, as 49% say it would be unfair and 35% say it would be fair.
The restriction on jobseekers' allowance is also significantly less popular amongst Conservative voters, as only 53% support it while 34% oppose.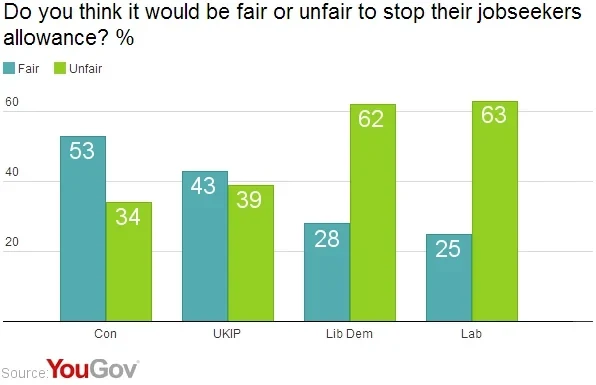 In both cases, the policy is less popular amongst its target group: 18-24 year olds oppose stopping housing benefit by 43%-36% and jobseekers' allowance by 62%-20%.
The latest statistics from the government show 1.09 million people aged 16-24 are not in education or employment, 15% of the age group. David Cameron said: "we should give young people a clear, positive choice: Go to school. Go to college. Do an apprenticeship. Get a job. But just choose the dole? We've got to offer them something better than that." The TUC say the plan would push hundreds of thousands of young people "even deeper into poverty".
Image: Getty