As hundreds of thousands of people find out whether they have tickets to the Glasgow 2014 Commonwealth Games, new YouGov research reveals that half the number of Scottish adults who planned to apply for tickets actually did so.
Previous YouGov polling in August, just before ticket applications opened, found that 28% of Scots said they were likely to apply to see events live at the Games. However, a new poll reveals that just 13% actually applied for tickets, with one in ten (10%) going for more than one event.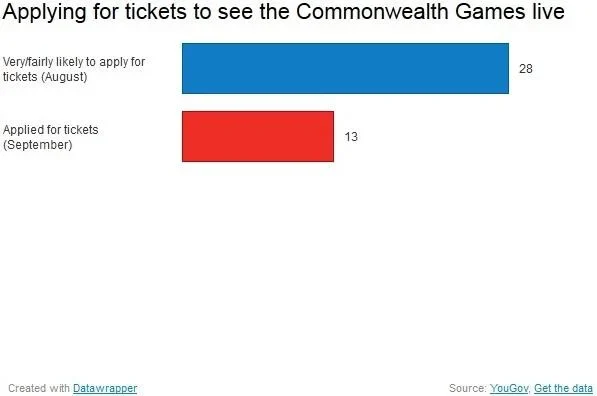 The research also shows that fewer than half of Scots are looking forward to the Commonwealth Games, with 46% of Scottish adults claiming they are excited about the occasion, compared to 54% who say they are not.
Glaswegians, however, are more enthusiastic about next summer's event. Three in five (60%) are excited about the competition being held in their city, with a quarter (25%) being 'very excited'. Additionally, more people from Glasgow applied for tickets for the Games. One in five (20%) applied for more than one ticket and another 5% went for tickets to a single event.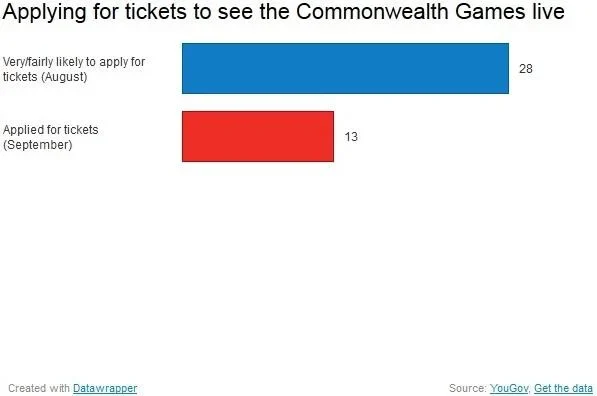 YouGov's polling about the Commonwealth Games could go on to show similar trends to that across the UK before the 2012 Olympics. In July 2011, one year before the London Games, only two-fifths (40%) of British adults were interested in the Olympics. However, one week before the event began this figure rose to half (51%) and following the end of the Games, three-quarters (76%) said they had been interested in London 2012.
Spectator sports
However, most Scots still plan to watch the action either at the event or on TV. 62% plan on viewing at least one sport, with nearly half (45%) planning to watch the athletic track and field events. Popularity in this sport matches demand for tickets, where more than 100,000 people applied for tickets for the men's 100m final.
Likewise, tickets for track cycling saw 25 times as many people apply for tickets than there are seats at the events, and three in ten (30%) Scots plan to watch the two-wheeled action. A similar number also plan on watching swimming and diving (31%) as well as gymnastics (29%).