The majority of the British public support making the long-term unemployed work full-time for jobseekers allowance and a tax-break for married couples – while Help to Buy is supported by half
In the run up to David Cameron's conference speech tomorrow the Conservatives have revealed at least three flagship policies. A 'Help to Work' scheme requiring those unemployed for two or more years to do full-time community service in return for benefits; a three month early rollout of the second-phase of 'Help to Buy' (extending the scheme from new builds to all homes worth under £600,000 ); and a £1,000 transferable tax-free allowance for those married or in civil partnerships.
New YouGov research for the Sun finds majority support for two out of the three policies.
68% of British adults support 'Help to Work' - making the long-term unemployed undertake 30 hour per week community work or have their jobseekers allowance taken away, making this the most popular of the three policies. Only 21% oppose while 10% are not sure.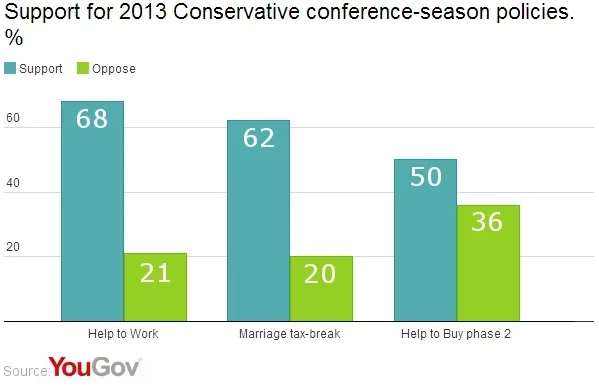 62% support the marriage tax-break - allowing married couples or civil partners to transfer up to £1000 of their tax allowance to their spouse (worth up to £200 a year to married couples where one stays at home or earns less than their tax allowance). Only 20% oppose and 18% are not sure.
The least popular policy is the second-phase of Help to Buy – providing a government guarantee to encourage banks to offer 95% mortgages to homebuyers, available for homes costing up to £600,000 - however this is still supported by half of the public (50%) and only opposed by just over a third (36%). 15% are not sure.
The tax-break for married couples is thought to have been part of a deal with the Liberal Democrats which would allow them to introduce free school meals for all children under eight. David Cameron's argument for the policy is that 'Marriage is a good thing for our country… and we want to show our support for it,' however critics claim that the proposal will only benefit a third of married couples at a rate of just £3.85 a week.
Image: Getty