Only a minority of voters – including a minority of Labour voters in some cases – think the Labour party will achieve the goals outlined in Ed Miliband's conference speech
Labour leader Ed Miliband's speech on Tuesday at the 2013 Labour Party Conference reportedly delighted supporters in the crowd, but a new Yougov poll for The Sun reveals that voters are highly sceptical of the Labour Party's ability to achieve some of the key policies raised in the speech.
The pledge voters are most likely to think a hypothetical Labour Government could achieve is lowering the voting age to 16, which 37% of voters think Labour would achieve and 36% think it would not achieve. Fewer than a third of voters have confidence Labour could improve the NHS (31%), freeze gas and electricity prices for two years (30%) or build 200,000 new houses a year by 2020 (25%), while about half of the public (49%, 50% and 50%, respectively) is openly doubtful that Labour could keep these three promises.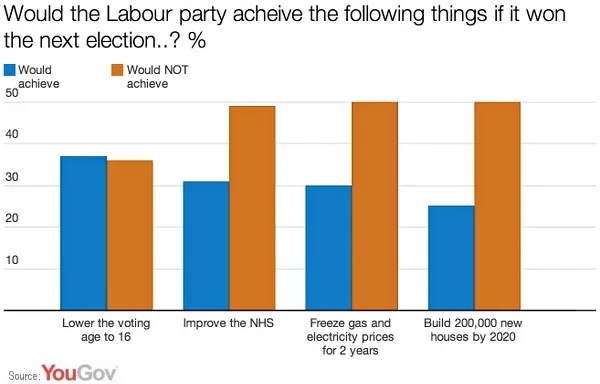 Among the Labour party's faithful, a greater proportion – but not in every case a majority – have faith in the its ability to do what it has said it would do.
Labour voters are most confident the party would improve the NHS (70% think it would happen; 15% think it would not) and achieve Miliband's most talked-about policy, freezing energy bills (64%-18%). However, less than half of Labour voters think the home-building push (48%-24%) and the change in the voting age (40%-33%) are likely to succeed.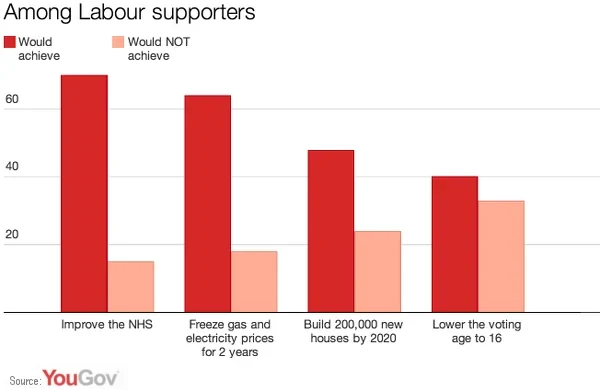 There is most cross-party confidence in Labour's ability to change the voting age: whereas only 11% of Conservative voters think Labour would be able to freeze energy bills, 36% have faith the party would be able to lower the voting age. More than half (53%) of Lib Dem voters think the voting age pledge would go ahead.
Still, predictably, political preferences appear to be the chief indicator as to whether or not particular voters believe Labour will keep its promises. In the most extreme case, there is a 65 point gap between the number of Conservatives who think Labour will improve the NHS (5%) and the number of Labour voters who think it will happen.
Image: Getty