Even fewer people know what the Liberal Democrats stand for now than before the last conference
As Liberal Democrats from around the country gather for the party's 2013 Conference in Glasgow, YouGov polling for The Sun shows how feelings about the Conservatives' coalition partner and the party's leader, Nick Clegg, have changed since the previous conference – and how they have not.
As the campaign speeches and debates of the 2010 general election recede further into the past, it appears that the Liberal Democrats are left with a growing challenge to define themselves for voters: whereas only 26% of voters felt like they knew what the Lib Dems stood for before last year's conference, even fewer, just 19%, know it this time around.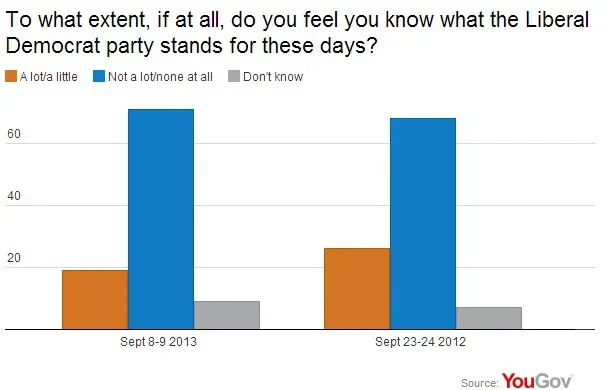 Three-quarters (74%) of voters who would vote Lib Dem today do say they know at least a little about what their party stands for these days, but only about a third (33%) of 2010 Lib Dem voters can say the same.
Biggest contribution?
Voters say the biggest contribution the Liberal Democrats have made to the coalition government is more moderate and centrist policies. However, while 20% cite this contribution, more than twice as many (44%) say the Liberal Democrats have made no positive contributions to the coalition government at all – including 33% of 2010 Lib Dem voters.
Progress report
There are many more specific things that the Liberal Democrats did say they would do in government when they campaigned in 2010, nevertheless, and YouGov has tracked how much progress voters think Lib Dems have made with some of those aims.
Reducing taxes for low earners is the area where voters think the Lib Dems have made the most progress, and it's also one of the areas where there is some improvement on last year: 48% think some progress has been made here, compared to 45% last year. The Lib Dem's efforts to make banks more competitive and consumer-friendly also seem to have had a moderate impact, as 20% now see progress made compared to just 14% before.
However there are other areas where voters think even less progress has been made now than they did last year. In particular, the number who think Lib Dems have made progress on increasing taxes on the wealth has decreased from 27% to 21%, and the number who think they've made progress on reducing 'red tape' for businesses has reduced similarly from 22% to just 16%.
Nick Clegg
Prominent Lib Dem Lord Oakshott recently spoke out against Nick Clegg, criticising the Lib Dem leader's 'poor ratings' and warning of potential for a 'disastrous' election. Nick Clegg retorted that Lord Oakshott always attacked him at 'this time of year', dismissing concerns that his leadership might be under threat.
It appears Nick Clegg does have the support of the majority of the party faithful, at least – while 37% of voters nationwide think he should be replaced before the next election (down 4 points from last year), only 22% of Lib Dem voters think so, compared to almost three quarters (73%) who think he should stay.
The political fortunes of the Liberal Democrats and their leader do seem to have shifted over the past year, however.
In the week leading up to last year's conference, the Liberal Democrats held a slim but reliable lead of about two points over the resurgent 'fourth party', UKIP. Since then the Liberal Democrats' lead has turned upside down, with the coalition partner trailing UKIP by an average of 3 points over the past week, although the level of Lib Dem support – around 9% – has hardly moved (whereas support for UKIP has nearly doubled).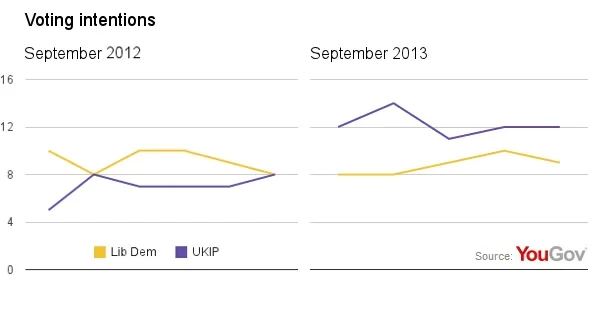 Meanwhile, Nick Clegg's leadership approval ratings – which were the lowest of any major party leader in YouGov's most recent survey for the Sunday Times – have improved, albeit marginally.
The Lib Dem leader's net approval rating (the percentage rating him 'well' minus 'badly') has hovered around -50% over the last four weeks, about ten points higher than the four weeks preceding last year's conference.