13 days before the German elections, Angela Merkel's party is solidly in the lead – but the Social Democratic party is gaining
Just under two weeks before the election, the SPD - the Social Democratic party that last governed as part of a coalition from 2005 to 2009, a year in which it only won 23% of the vote - has climbed from 26% to 28%, according to the latest INSA poll in collaboration with YouGov for the Bild newspaper. SPD had already gained a point since the previous week's poll.
The CDU – the country's main conservative party, led by Angela Merkel and currently joined in a coalition with the CSU – retains its gains from the previous week, remaining at 39%. However the FDP, the classically liberal party that serves in the current coalition goverment with CDU/CSU, has now slipped below the 5% threshold to 4%. The environmentalist Green party is on eleven percent (down two percent), while Linke (at 8%), Pirates (3%) and AfD (3%) all keep their results from the previous week.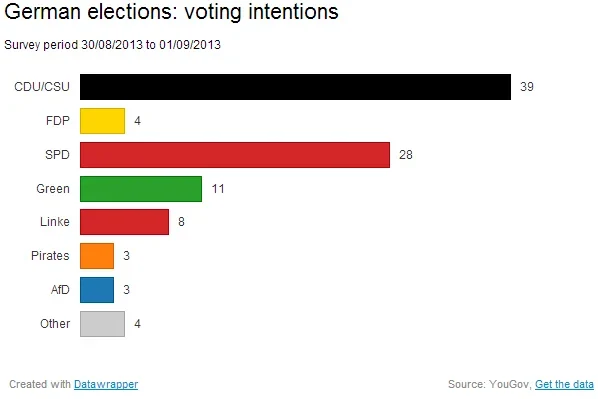 This close to the election, much of the campaign debate is focused on the coalition question: Chancellor and CDU leader Angela Merkel warned at the weekend strongly against a red-red-green coaltion, which would include the SPD and Green along with far-left Linke party. The leader of the SPD also recently dismissed the possibility of a coalition with Linke in the next legislative period.
As the current election forecast shows, the most likely result is a Grand Coalition between the two largest parties (SPD and CDU/CSU), although a combination of red-red-green could technically still capture a majority.
The results of the INSA/YouGov poll appear regularly on Wednesday in the Bild newspaper
For more information, see insa-meinungstrend.de .
Image: Getty