An increase in tablet and smartphone ownership has led to high levels of gaming on these devices, overtaking that of games consoles.
New research from YouGov Technology and Telecoms shows that ownership of the tablet overtook that of the eReader in the spring of this year and currently holds 28% ownership amongst the British adult population. Similarly smartphone ownership, which overtook feature phones in summer 2012, has continued to rise to two-thirds (67%) of the market.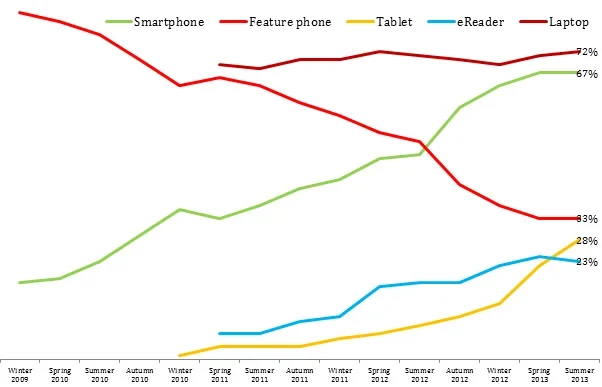 This increase in tablet and smartphone ownership has been matched by a rise in gaming on these devices, which has had a detrimental effect on games console usage. Of those that game on smartphones but predominantly consoles, 21% say they play less on their console than they did previously. Even more significantly, 28% of those that game on tablets but predominantly consoles now play their console less than they did before.
Gaming on devices
While generally browsing the internet (79%) and e-mailing (64%) are the most popular activities by tablet owners, nearly half (46%) of tablet owners use their device to play games. Perhaps more interestingly, 83% of children under 18 with a tablet in their household use the device to play games, which is by far the most popular activity for this age group.
Frequency of playing is also much more pronounced on tablets and smartphones. Of people who play games, nearly half (49%) say they play games on their tablet on a daily basis with an equal number doing the same on their smartphones. This is compared to other gaming devices, where 14% play daily on their Xbox 360, 8% on their PS3, 3% on their Wii and 38% on their laptop.
Additionally, more than one in five (21%) who game on their smartphone but predominantly on their consoles stated that they felt they have bought fewer games as a results of owning a smartphone. This is higher amongst tablet owners where nearly a third (28%) said the same.
Russell Feldman, YouGov's Director of Technology and Telecoms, states: "What we can see here is the cannibalisation of traditional gaming platforms, with gaming on tablets and smartphones eating into the games console and computer market. Not only has the increase in ownership of tablets and smartphones led to a decrease in traditional gaming on consoles, but also the fact that games on these devices are often cheap or free and can be played on-the-go.
He continues: "There is still a core group of gamers both playing and buying games, but the market is diversifying and this presents a challenge to the games console industry, whose territory is being encroached upon. They need to win consumers back and convince them that gaming on consoles is still the best experience. New devices such as the GameStick or Ouya are starting to bridge this gap with games developers needing to follow suit."
This research comes from YouGov Technology and Telecoms' August Tablet Track, which interviewed 3,824 GB Adults (of which 2,063 were nationally representative and 1,761 were a targetted sample of tablet owners; total tablet owners 2,352), and its Gaming Report, which interviewed 2,047 GB Adults in June 2013 (of which 1,021 were nationally representative and 1,026 were a targetted sample of gamers).
Image courtesy of Getty Images
See more about YouGov's Technology and Telecoms consulting