The British are much more concerned about an influx of Bulgarians and Romanians than their French or German counterparts
Last month figures from the Office of National Statistics (ONS) showed that the number of Romanians and Bulgarians working in the UK had risen by 26%between April and June. The uptake in migration was unexpected, coming nine months before existing work restrictions on Romanian and Bulgarian workers expire and are able to claim the same benefits as other EU workers. In total eight countries – including the UK, France and Germany – had imposed restrictions on Bulgarian and Romanian workers thus far, all due to expire at the end of 2013.
New research from YouGov's EuroTrack survey indicates that Britons are significantly more apprehensive about the end of restrictions on these workers than their French and German counterparts.
One in two (50%) British adults not only want a referendum on the issue, but would vote for the employment restrictions on Bulgarians and Romanians to continue past the 1st of January 2014; only about a third of French adults (30%) and German adults (35%) feel the same way.*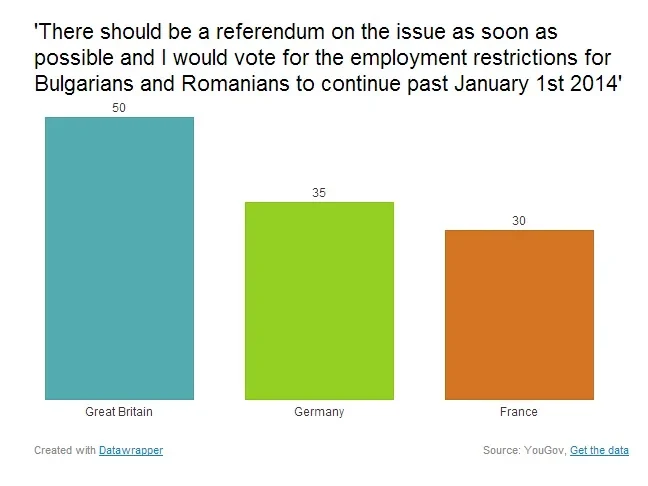 More specifically, when asked about the prospect of a referendum on the issue, two-thirds (66%) of Britons said there should be one, which includes the 50% who would vote for the restrictions to be kept.
5% of British adults think there should be a referendum and would vote for the restrictions to be dropped as planned. Another 11% would also like the restrictions to be dropped as planned, but would like to wait and see the actual impact of the changes before the referendum is called.
Only 18% do not want a referendum on the issue.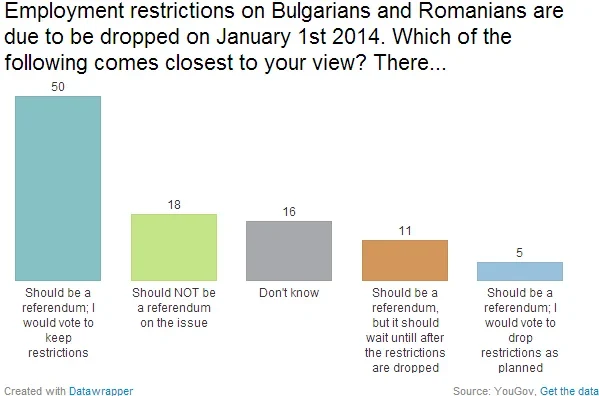 In January 2013, it was reported that the government was considering plans to mount a public information campaign in Romania and Bulgaria to 'correct the impression that the streets here are paved with gold' and even remind prospective immigrants of Britain's uninspiring weather.
*YouGov asked the above question three separate ways and to three separate groups: twice with reference to "studies" showing the developments will have either a "minimal" or a "significant" impact on immigration to Western European countries and once with no reference to studies at all. The above refers to the question that did not mention any studies. Image: Getty