Britons opposed to the TV broadcast of the daily call to prayer during Ramadan outnumber supporters two to one – but there are significant splits by politics and age
Channel 4 announced this week that it will broadcast the calls to prayer during the Muslim festival of Ramadan, as "a deliberate provocation" for viewers associating Islam with extremism.
The majority (52%) say Channel 4 is "wrong to mark Ramadan in this way"; twice as many as who say it is right (26%).
Conservative and UKIP voters are most against the move, opposing the airing of the prayer call by 61%-21% and 84%-7% respectively. Labour and Lib Dem supporters are less settled, however. Labour voters oppose the broadcast by 42%-35% and Lib Dems support it by 38%-34%.
Opposition also increases with age: whereas 68% of over 60s say Channel 4 is wrong to broadcast the call to prayer, less than a third (31%) of 18-24 year olds feel the same.
Channel 4's head of factual programming, Ralph Lee, said that "Nearly five per cent of the country will actively engage in Ramadan this month - can we say the same of other national events that have received blanket coverage on television, such as the Queen's coronation anniversary?"
On the first day of the festival the full five calls to prayer that Muslims take part in daily during Ramadan will be broadcast. For the rest of the festival only the first will be played, at around 3am each day.
The debate on social media
Using YouGov's social media analysis tool, SoMA, we can measure the impact of Channel 4's announcement on both Twitter and Facebook.
On Twitter, over half (51.2%) of UK users were exposed to a mention of Channel 4 on 2 July, compared to 37.2% the previous day. On Facebook, the number of users hearing about Channel 4 doubled to 14%, compared to 7.1% the previous day.
While the five most popular words mentioned alongside Channel 4 were identical on both social networking sites ('prayer', 'call', 'ramadan', 'during', and 'muslim'), it is interesting to note the different demographic audiences that were exposed. For example, more males were exposed to a mention of the broadcaster on Facebook (60%) than on Twitter (57%), while more 18-24 years were exposed on Twitter (15%) than on Facebook (7%).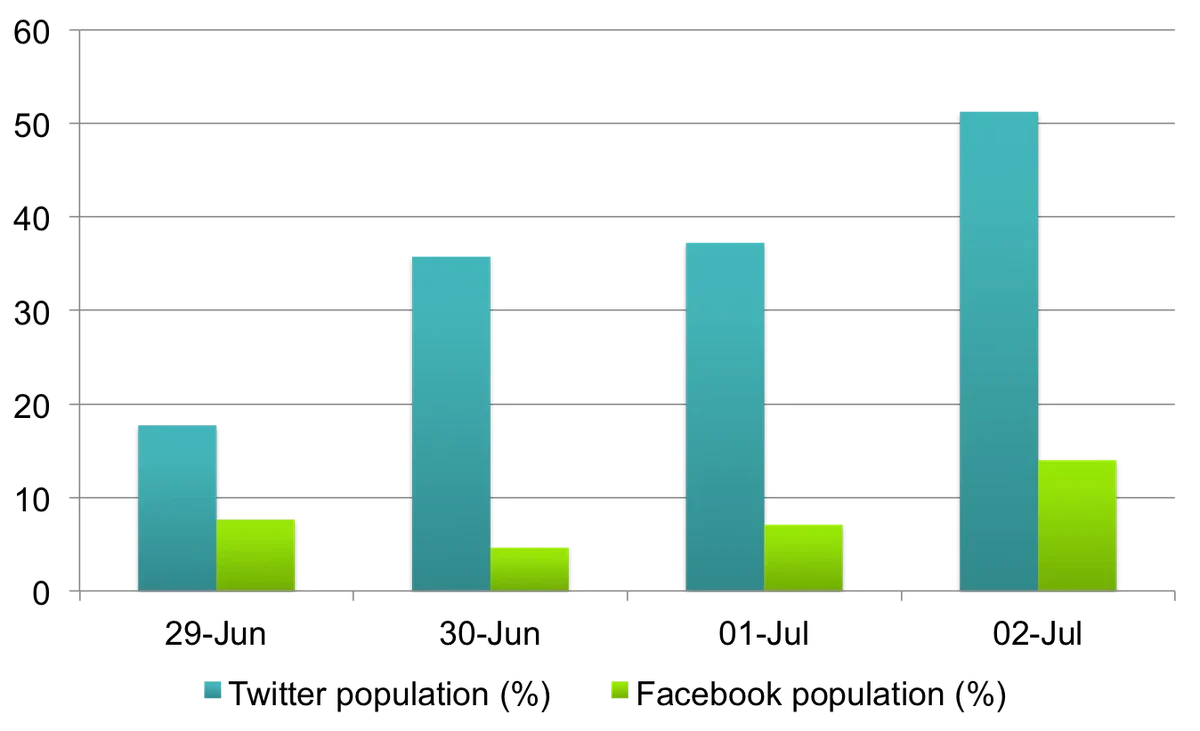 Looking at the verbatim tweets collected by SoMA, we can see the call to prayer row sparked a lively discussion online.
'Channel 4 has always made 'edgy' TV. Call to prayer plans are no surprise & it's good to see them provoking non-terror discussion of Islam'
'If this is the case where's the equal coverage for other religions? Why aren't they given all this publicity & airtime? #Channel4 #Pandering'
'Also, Channel 4 are showing the 3am call, you probably won't be awake, never mind watching TV. STOP YOUR MOANING'