New polling by YouGov reveals that UK Opinion Formers and the general public are split on their views of public funding of the Arts.
While access to all is the funding priority, many are worried about subsidising culturally elitist programmes. Almost two thirds (65%) of Opinion Formers say funding should remain a priority despite these austere times but just 28% of the public agrees. The majority of both groups do though agree that public funding should fall in line with other Government department cuts.
The benefits of public funding
The majority (67%) of YouGov's 'Opinion Former' panellists believe the primary benefit of public funding of the Arts is the "social and cultural benefit through giving access to the whole population". While still the top answer, agreement falls to 42% amongst the general public, a further 15% of whom see the primary benefit as "economic impact from tourism and the creative industries" (19% of Opinion Formers also agree). But nearly a quarter (24%) of the public are "not convinced that there is a strong benefit" from Arts funding, 18% don't know.
Public versus private: Who funds and who receives
Funding should be shared equally between public and private sector according to 59% of Opinion Formers, falling to 42% of the public, with 23% and 29% respectively wanting entirely or predominantly private funding. UK adults were asked what sort of organisations they think receive the public funding; 19% say public organisations, 11% commercial business, 11% social enterprises and just 9% say charities, but 50% don't know.
Cuts
65% of Opinion Formers say public Arts funding must remain a priority but this falls to only 28% of the public. However, three quarters of both groups support cutting public funding (Figure 1) but the majority believe cuts should only be in line with those to other Government departments. Only museums and libraries gain majority support to be ring-fenced (Figure 2).
Figure 1. Which is closest to your view regarding the current level of arts funding?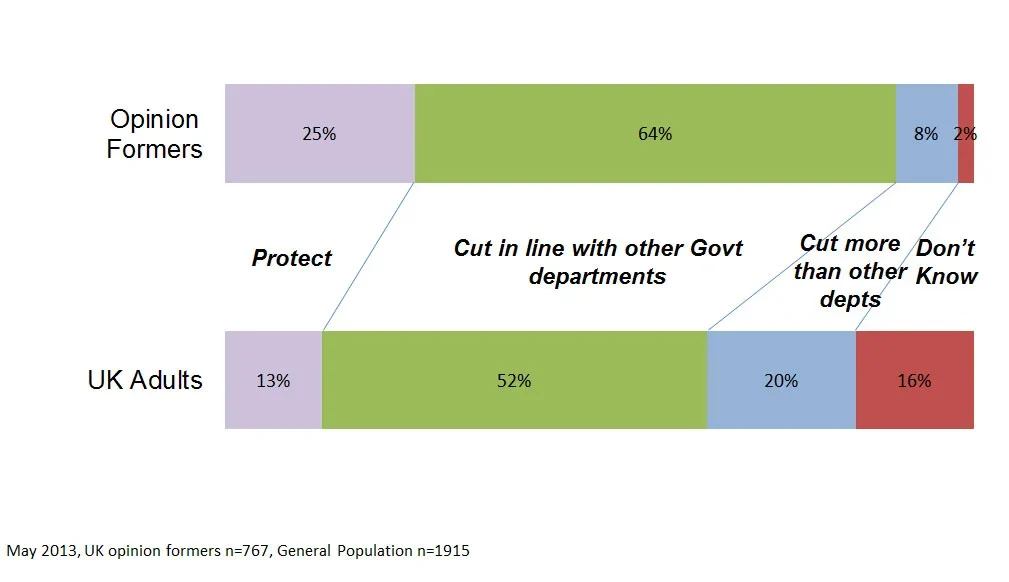 Figure 2. Thinking about each of the following areas of public arts funding, which three, if any, of these, should be most protected from cuts?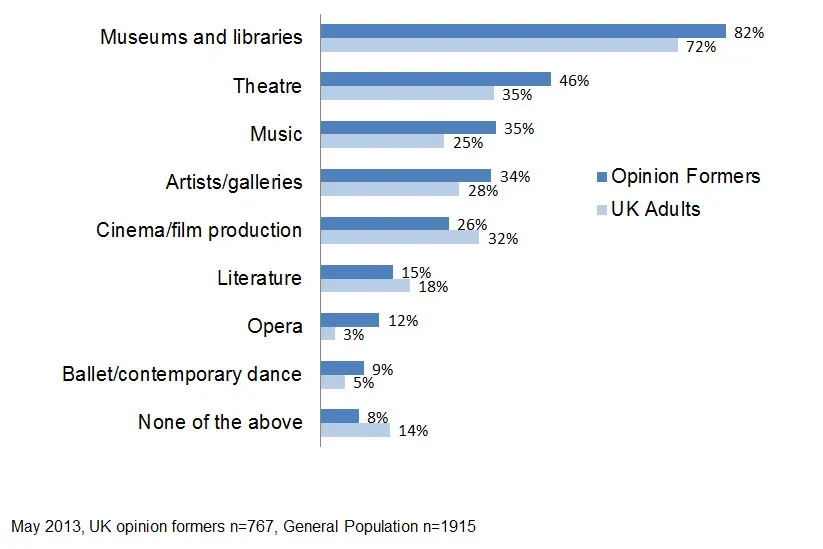 Assessing funding requests
Assessing public funding requests should use a broad set of criteria including financial, non-financial, environmental and reputational issues, say 55% of Opinion Formers and 39% of the public. 1 in 5 (22% and 20%) of both groups think social and cultural value should be first, despite being seen by so many more as the primary benefit of public Arts funding.
Top priorities
Opinion Formers are very clear that they feel the top priorities for public Arts funding should be widening access (68%), developing talent (55%), and inspiring us and lifting our spirits (55%). The public also selects the same first two options, though with far less conviction (40% pick each) but in third place (39%) is boosting tourism 11% of the public want no public funding of the Arts.
Access, affordability and funding distribution
There is general agreement that "public funding of the arts allows the whole population access to cultural events which would be unaffordable otherwise" but in contrast there is also agreement that "public funding of the Arts is poorly distributed". Opinion Formers are completely split over whether "too much public money subsidises culturally elitist programmes with little wider public relevance" (38% agree, 46% disagree) but far more of the general public agree than disagree (48% vs 16%) with this. Also 59% of Opinion Formers and 42% of the public agree that "if the BBC gets public money so should the Arts" and 64% of Opinion Formers believe "private funding of the arts is encouraged by public funding" though only 36% of the public agree with this.
See the full results from the opinion former panel here