On leadership and name recognition, Michael Gove lags behind other prominent Conservatives, but he has credibility on Europe
Last week Deputy Prime Minister Nick Clegg said that Education Secretary Michael Gove "knows a thing or two about leadership ambitions" himself, after Gove claimed Clegg had to take a stand on childcare ratios to "show a bit of leg" and quell an internal plot to oust him as Lib Dem leader.
Clegg is not the first to suggest Gove may want to succeed David Cameron as Prime Minister; on Wednesday Gove himself fueled speculation when he said he would like to be "the heir to Blair", and on the next day he gave a campaign-style speech at a policy institute.
Recent YouGov polling reveals that most voters are uninspired by Gove's leadership qualities and many still do not know very well who Gove is, but quite a few – particularly conservatives – are impressed by his stand on Europe.
Fans and detractors
YouGov's Opigram system constantly records what Michael Gove's supporters and detractors think about him, and what they think about themselves.
It reveals that people who like Gove describe him most of all as "forward thinking" and "intelligent" while people who dislike him find him "arrogant" and "out of touch". Fans of Gove also often say he is "one to watch", perhaps suggesting confidence in his ability to rise through the ranks.

The other politicians admired particularly by Gove supporters include Work and Pensions Secretary Iain Duncan Smith and Chancellor George Osborne.
Opigram can also distinguish the particular traits of Michael Gove supporters: when speaking positively of themselves, they are more likely than most to describe themselves as "analytical" and "principled", but confess they can be "arrogant" and "intolerant".
The issues of particular importance to Michael Gove's supporters include the European Union, the British Monarchy, and tax. In comparison, the issues David Cameron supporters are more likely to care about are immigration, the European Union and the benefits system.
Leadership potential
An April YouGov poll asked voters whether they thought Michael Gove would make a better or worse leader for the Conservative party than David Cameron; only 8% said he would be better.
The rating puts Gove ahead of George Osborne, but behind Foreign Secretary William Hague, Home Secretary Theresa May (another Conservative cabinet member rumored to be interested in leading the party) and UKIP leader Nigel Farage. His position has not changed since last year.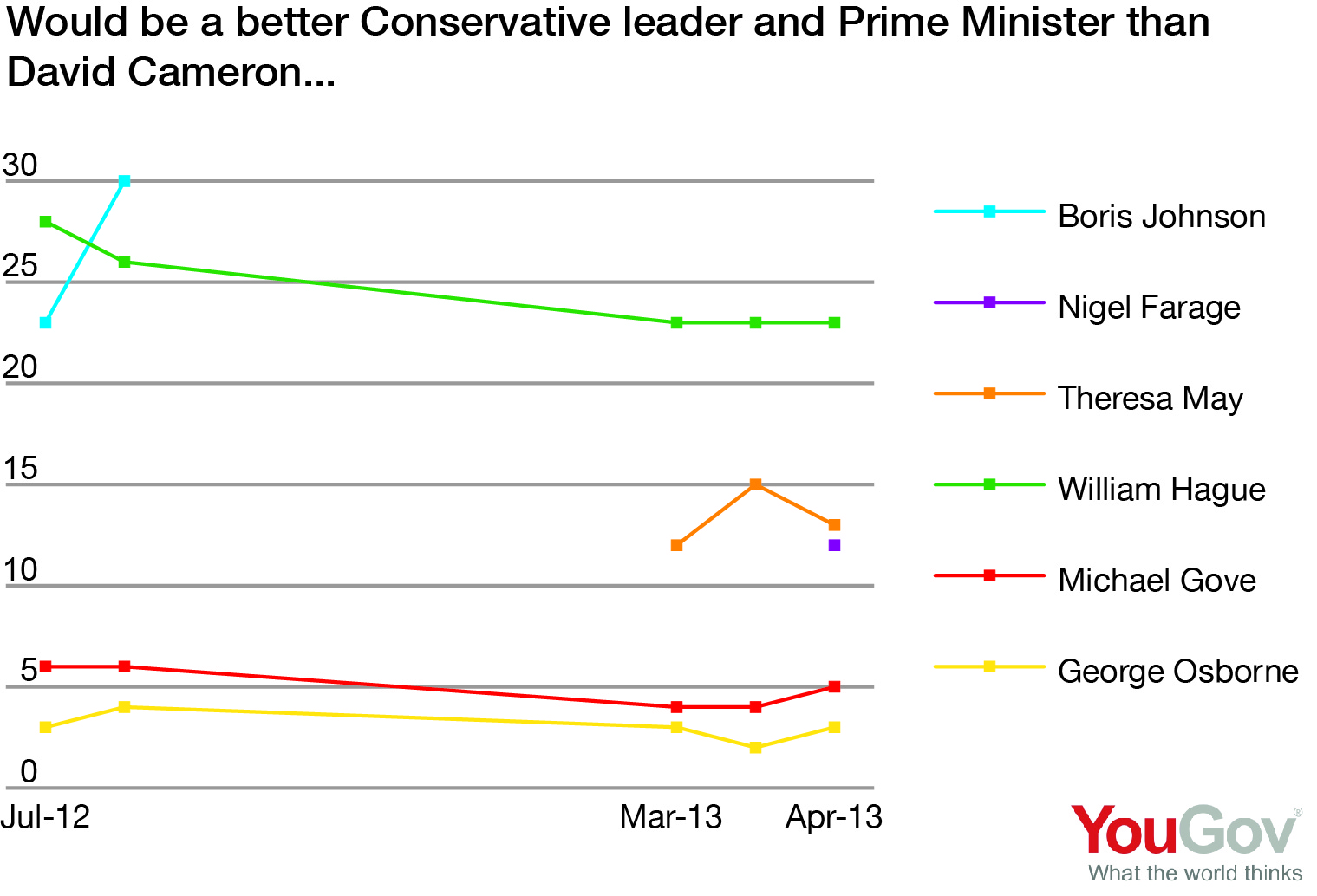 Job performance
Gove told MPs in the Commons on Wednesday that he planned to scrap the traditional lettered (ABC) GCSE grading system with a numbered system. The proposal was the latest of a number of major changes Gove has suggested for British education policy. Days after the announcement, Gove was heckled while giving speech to a head teachers union, which then passed a motion of no confidence in the Education Secretary's policies.
In March, YouGov asked voters how well they thought Gove was doing in his Cabinet role, and more than twice as many voters said he was doing badly (47%) than think he is doing well (22%). As a net rating (total "well" responses minus total "badly" responses), however, Gove's rating of -25% is not far off from the Prime Minister's -23% rating in the same poll.
Gove's performance was also well-rated among Conservative voters, 46% of whom think he was doing well compared to 26% who say he was doing badly, though he lags siginificantly behind Cameron's level of support with these voters.

The European question
Last week Gove declared publicly that he would vote to leave the EU tomorrow if given the chance, just as Cameron faced a Conservative rebellion over the Government's position on Europe.
The latest YouGov polling suggests most Conservative voters (54%) are convinced Gove took a stand on the issue because he feels strongly about it - not because of political maneuvering - while only 44% of Conservative voters think David Cameron feels strongly about his EU positions.
Most Britons (64%) and 45% of Conservative voters thought Cameron's position on Europe came from a "tactical calculation" and not strong feelings.


Name recognition
Michael Gove, however, is still not very famous in the country.
A YouGov poll from last week found that only 40% of voters could put Michael Gove's name to a picture of his face, placing him 12th in recognisability among the 18 top political players featured, and 7th of ten Conservatives on the list.