As the Treasury finds its plans for increased competition in retail banking in disarray following the failed plan to sell 631 Lloyds branches to the Co-op, it has emerged that Sainsbury's is in talks with Lloyds Banking Group over the possibility of taking full ownership of Sainsbury's Bank.
Sainsbury's was the first of the major supermarkets to enter into the world of retail banking, launching Sainsbury's Bank in 1997.
Fast forward to today, amidst widespread consumer disillusionment with traditional high street banking, Sainsbury's is looking to acquire the remaining 50% of the bank, currently owned by Lloyds.
If Sainsbury's is successful in achieving full independence it would be a step towards more competition in retail banking, which reformers hope will lead to increased choice, better rates and higher levels of service for consumers.
Looking at YouGov's brand perception tool, BrandIndex, we can see that consumers have a higher regard for Sainsbury's Bank than for its part-owner Lloyds.
Comparing Sainsbury's Bank with Lloyds, we can see that it is ahead for both quality and value. Sainsbury's Bank currently has a Quality score of 0, while Lloyds has a Quality score of -4.4.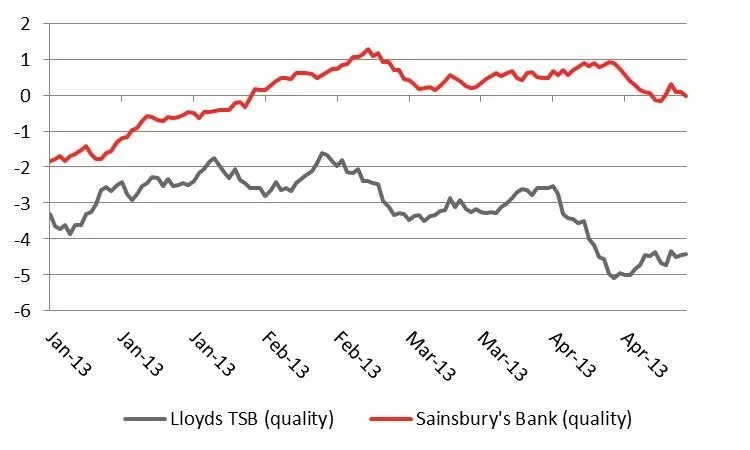 Furthermore, in terms of Value, Sainsbury's Bank has a score of -3.5 compared to Lloyds' score of 10.9.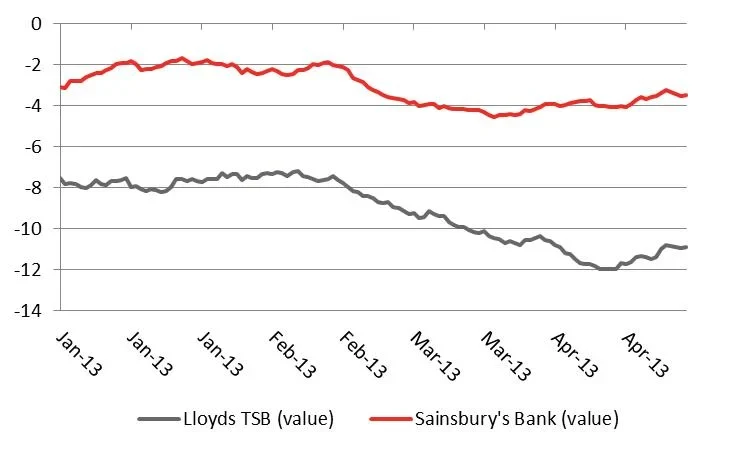 Sainsbury's Bank has decent perception scores amongst consumers, placing it in a reasonably strong position to capitalise upon widespread consumer disillusionment with the main retail banks, including Lloyds.
If Sainsbury's is successful in its bid to take full control of its banking arm then it would boost its credentials as a bigger player in the retail banking sector, thus contributing to the more pluralistic and competitive environment that the sector's reforming voices have been calling for.